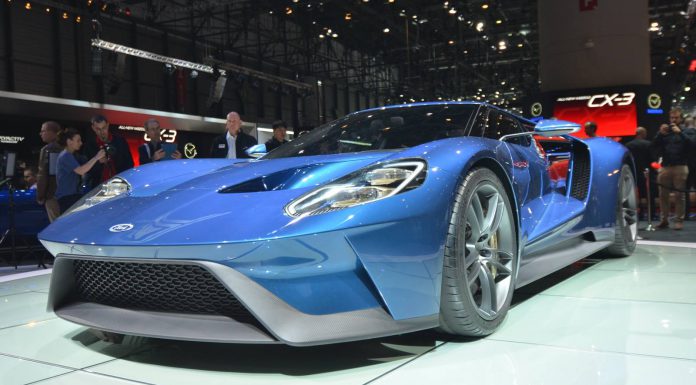 The stunning new Ford GT first took the world by storm unveiled in Liquid Blue in Detroit, transformed to Liquid Silver for the Chicage Motor Show and for Geneva Motor Show 2015 the choice is also liquid blue. Ford were baiting Ferrari upon our arrival at the Geneva Motor Show this year with an advert asking us to come and check out "LaFord"… we were only too willing to oblige.
The colours highlight the sharpness of the sleek lines for Ford's flagship, the Ford GT built with carbon fibre chassis and body panels to star in marking the 50th anniversary of the marque's historic GT40 1-2-3 at Le Mans in 1966.
Looking every inch a modern racer, the Ford GT's teardrop-shaped cabin ahead of the mid engine has wing blades scything back from the roof to the rear wheel arches and then flowing into the active rear wing. Inside, the driver's controls are on the F1-style steering wheel with a stalk-free column.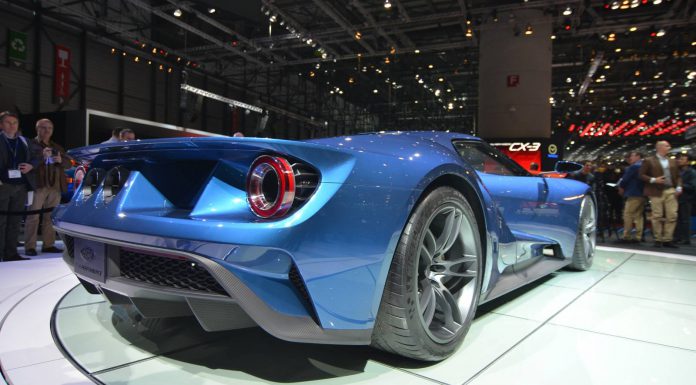 Set to be released as a 2017 model, Ford is now beginning development in earnest and has confirmed that the new Ford GT delivers more than 600 hp with its 3.5-litre twin-turbo EcoBoost V6 engine putting out rear wheel-driving power in line with the Ferrari 458 Speciale's non-turbo 4.5-litre V8.
The new Ford GT's engine has dual fuel-injection and is paired with a seven-speed dual-clutch transaxle transmission.

For all the latest from the Geneva Motor Show 2015, take a look at our dedicated news feed or follow us on Facebook, Twitter, Instagram or Google+.