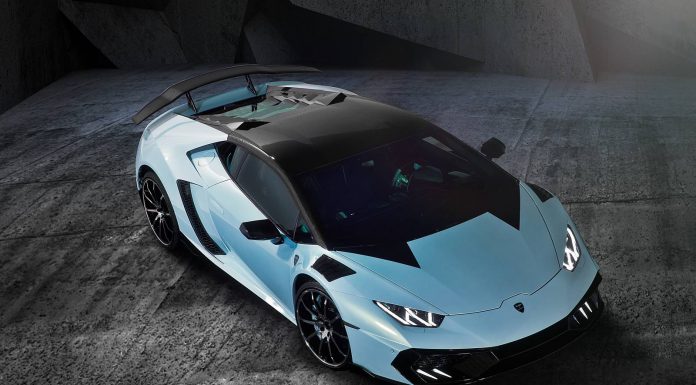 Just a few weeks after the Mansory Lamborghini Huracan MH1 was revealed, an even more insane Huracan has been unveiled by the tuner at the Geneva Motor Show 2015 in the form of the Mansory Torofeo. The Torofeo takes the Huracan MH1 and turns everything up to eleven in a package combining visual and mechanical changes.
Starting with the most important things, the Mansory Torofeo Lamborghini Huracan receives a comprehensively modified engine. As a result, the Huracan's 5.2-litre V10 has been outfitted with brand new pistons, connecting rods, two bearing-mounted turbochargers, new camshafts, a new fuel system as well as a water-cooled intercooler. The result of these modifications are a claimed 1000 hp and an electronically limited 737 lb-ft of torque. To put the horsepower into perspective, the 'standard' Huracan pumps out 610 hp. Alongside the engine changes, the Mansory Torofeo Lamborghini Huracan also features a stainless steel exhaust system.
As a result of these extensive mechanical modifications, the Mansory Torofeo will sprint forwards from a standstill to 100 km/h in just 2.7 seconds before topping out at a claimed 340 km/h (211 mph) top speed.
Visually, the Torofeo adopts a widebody kit which means it is 30 mm wider at the front as well as 40 mm wider at the rear. The new bodykit incorporates a bold front fascia with interesting air intake mounted LED daytime running lights. Additionally, a more pronounced splitter has been incorporated into the new front clip. Elsewhere, new air vents have been installed on both front wheel arches.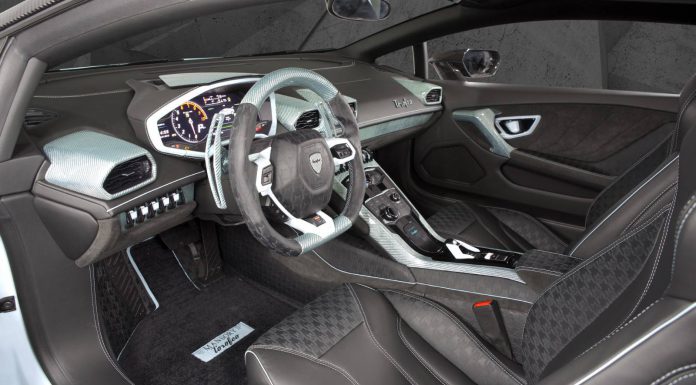 On the side, the Mansory Torofeo includes a set of aftermarket wheels and different side skirts while the rear is arguably the most in-your-face. With that in mind, it features a different decklid with eye-catching intakes. A prominent rear wing has also been installed as has a different front bumper, diffuser and reshaped quad exhaust tips. Almost all of the aforementioned components are made from lightweight carbon fibre.
Inside, the Torofeo Lamborghini Huracan features newly upholstered seats as well as a number of light blue carbon fibre accents on the air vents, steering wheel, door handles, centre console and paddle shifters.

For all the latest from the Geneva Motor Show 2015, take a look at our dedicated news feed or follow us on Facebook, Twitter, Instagram or Google+.