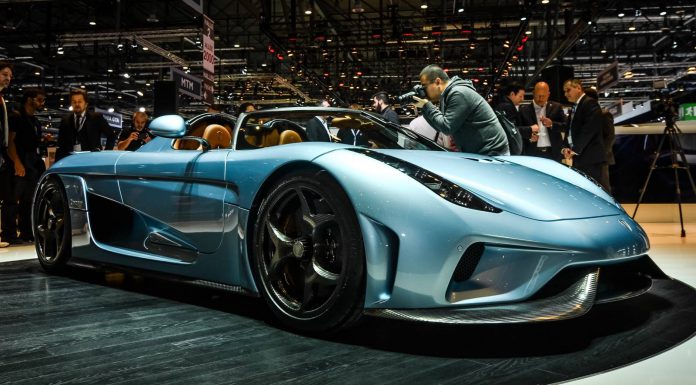 The wait is over, the Koenigegg Regera has now officially been unveiled ahead of the Geneva Motor Show 2015. Billed as a luxury Megacar alternative to Koenigsegg's "traditional extreme lightweight race-like road cars". The name is Swedish for "to Reign". Within a staggering 1,500 bhp and 2,000 Nm of torque, it certainly does reign!
To start with the engineering, Koenigsegg bill the Regera as the fastest accelerating, most powerful production car ever. It joins the Koenigsegg Agera as a second model for Koenigsegg's lineup. The factory has been reworked to enable production of both models side by side.
Some might remember that Christian von Koenigsegg was very vocal about his opposition to hybrid systems. It might surprise you to read that the Koenigsegg Regera runs a form of hybrid system. This system is aparently very different to the examples we've already seen applied to other hypercars. It is less heavy and less complex; befitting of a Koenigsegg megacar.
Koenigsegg's bespoke dry-sump twin turbo, DOHC 5.0 litre V8 provides the bulk of the power. In the Regera it produces 1,100 bhp running on regular petrol. It is coupled to three YASA developed electric motors, one for each rear wheel (260 Nm's each) and one at the crankshaft (300 Nm's) providing torque vectoring, regenerative breaking and torque fill. The motor also fulfils the starter motor function.
The Regera features the Koenigsegg Direct Drive Transmission or KDD for short. The KDD system replaces the combustion engines traditional transmission, reducing drivetrain losses and providing seamless power to the rear wheels.
[youtube]http://www.youtube.com/watch?v=mSaYN0devks [/youtube]
The battery pack and power distribution for the KDD were developed and manufactured in cooperation with Mate Rimac and his engineering team. The battery is a 620 volt, liquid cooled pack with 9,27 kWh of energy, 67 liters of volume and weighing in at just 115 kg of weight. 500 kW can momentarily be drawn during acceleration and over 150 kW can be absorbed by the battery-pack during regenerative braking.
The cells of the pack is carefully monitored by a system computer for voltage, state of charge, health and temperature. They sit fully enclosed in a fully machined aluminum casing for safety and stability. The battery is located in the carbon-aramid chassis tunnel and can be charged through a Type 2 mode 3 plug at the center rear of the car.
The complete KDD system adds 88 kg over the traditional Koenigsegg layout as the transmission has been removed. The upshot of it all is that the Koenigsegg Regera is able to cover between 35 and 50 km on the battery system alone.
The Regera also gets a unique titanium fish tail exhaust system, designed by Christian von Koenigsegg and produced by Akrapovic. The exhaust system is designed to be as short and lightweight as possible. Traction and stability is assured with three different modes; wet, normal and track.

The figures really are quite staggering. 3.2 seconds between 150 to 250 km/h and under 20 Seconds from 0 to 400 km/h. We haven't yet received any other information on the car's performance but we should expect a sensational 0 to 100 km/h time and an untestable top speed! Total dry weight is 1420kg (Curb weight 1628 kg).
The Koenigsegg isn't just a heavily engineered megacar though. It also features a fully robotized car body, by which we mean that the front and rear bonnets, doors, mirrors, wing and charge port have soft close functionality and can be controlled by an app or remote.
Inside, the Regera gets 3G connectivity with a remote app, software upgrades and Pre-active chassis setups. The MMI is Apple Car play enabled and the seats are innovative 6 way electrically adjustable lightweight carbon memory units. The engine sits on active mounts which also help to reduce cabin sound.
Just 80 examples of the Koenigsegg Regera will be built. This isn't a concept car either. Koenigsegg are seemingly releasing it as a fully production ready vehicle. It has been designed for worldwide homologation which means that Koenigsegg are pitching the Regera to US customers too.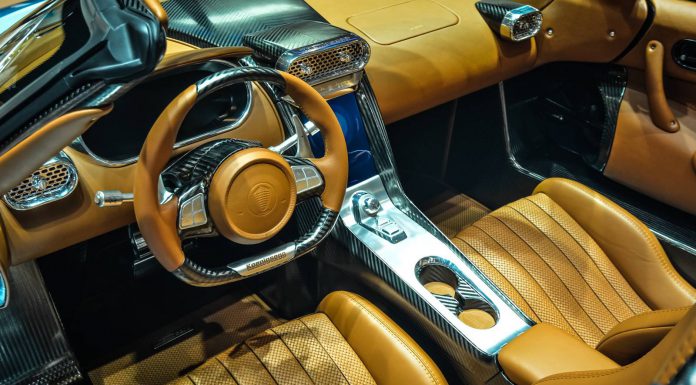 For all the latest from the Geneva Motor Show 2015, take a look at our dedicated news feed or follow us on Facebook, Twitter, Instagram or Google+.