Having had the privilege of driving the Mercedes-AMG GT and GT S in the U.S., we know all too well just how good the German sports car is. Not too long ago, the local French launch of the Mercedes-AMG GT was held and Arnaud Taquet managed to snap some truly phenomenal shots of two AMG GTs in action in some stunning surroundings.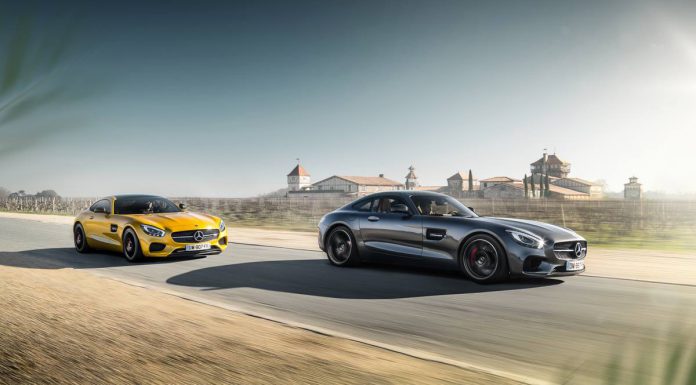 In case you didn't already know, the 2015 Mercedes-AMG GT comes with a mid-engine concept with transaxle and the intelligent aluminium lightweight construction. It has a newly developed AMG 4.0-litre V8 biturbo engine, which is also featured in the W205-generation Mercedes-AMG C63. One interesting element about this engine is that the turbochargers and mounted within the V of the engine block. The base AMG GT model delivers a total of 462 hp while the AMG GT S pumps out 510 hp.
With that power in mind, zero to 100 km/h is done in 3.8 seconds for the AMG GT S and in 4.0 seconds for the AMG GT. The 2015 Mercedes-AMG GT S has a top speed of 310 km/h and the AMG GT tops out at 304 km/h. Elsewhere, the AMG GT and the AMG GT S weigh 1,540 and 1,570 kilograms respectively. As we experienced on the road, it is the rolling sprints where the AMG GT S really excels with its plentiful amounts of torque.