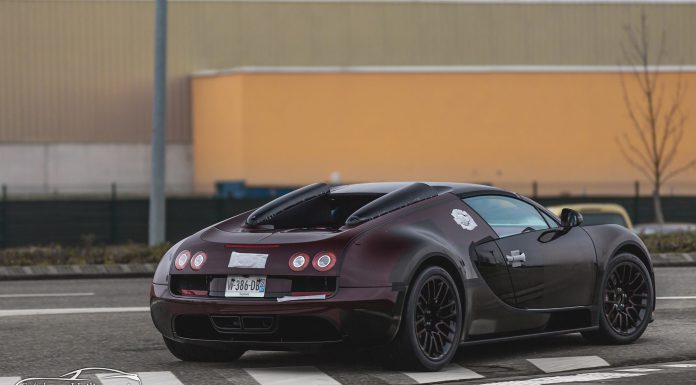 A couple of images of the Bugatti Veyron Grand Sport Vitesse La Finale have emerged as the car was snapped outside the Bugatti factory in France after a teaser. The 450th and final ever Bugatti Veyron to be produced will be unveiled at the Geneva Motor Show 2015.
As these images from Stéphane Heiligenstein Photographie show, the Bugatti Veyron Grand Sport Vitesse La Finale features a host of dark red carbon fibre elements as well as gloss black paint work. The carbon fibre can be found across the entire rear fascia and rear quarter panels as well as the front bumper, roof and a large portion of the bonnet. The rest of the car is then painted in gloss black.
Another interesting element is the brand new wheels featured on the Vitesse La Finale. They appear to have a dark red tint to them and include dark red centre caps. Although not visible in these images, the official teaser image of the car showed that the underside of the rear wing/air brake will read La Finale.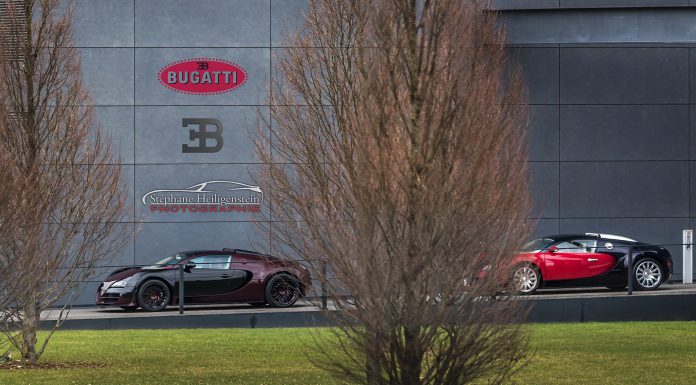 Beneath the exclusive bodywork and customised interior, the Bugatti Veyron Grand Sport Vitesse La Finale will utilise the same mechanicals as all other Vitesse models. Consequently, it will feature a quad-turbocharged 8.0-litre W16 engine delivering a total of 1200 hp and 1106 lb-ft of torque. As a result, it will be capable of hitting 100 km/ in a mere 2.5 seconds as well as a top speed of 408.84 km/h.
Recently discussing the end of the Veyron's production run, president of Bugatti Wolfgang Durheimer said, "So far no other carmaker has managed to successfully market a product that stands for unique top-class technical performance and pure luxury in a comparable price/volume range An unprecedented chapter in automobile history has reached its climax."