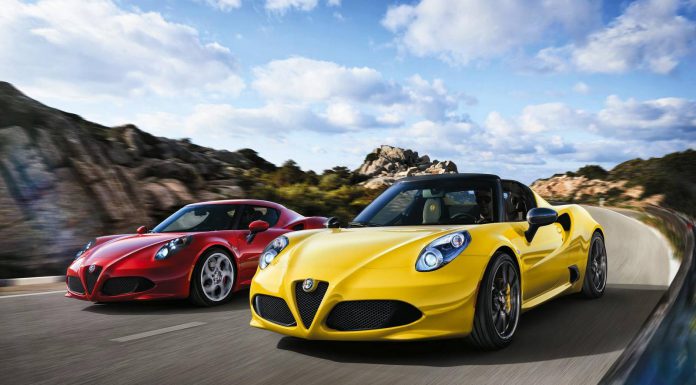 The 2015 Alfa Romeo 4C Spider has been officially priced in the United Kingdom with it pinned to set customers back a minimum of 59,500 euros. Additionally, pricing for the updated 2015 model year Alfa Romeo 4C Coupe has been released with it starting at 51,500 pounds which is a modest increase over the outgoing model.
The Alfa Romeo 4C Coupe is now available with a selection of features as standard which were previously only available as optional extras from the factory. They include luxury floor mats, Bi-LED headlights complete with carbon fibre surrounds, parking sensors, cruise control and luxury floor mats. It remains to be seen how much extra weight these additions have added to the Italian sports car but buyers will inevitably be pleased with the additions.
As for the Alfa Romeo 4C Spider, it uses the same 1.75-litre turbocharged four-cylinder engine as the coupe delivering 237 hp and 258 lb-ft of torque 80 per cent of which is available at a mere 1700 rpm. As a result, it can reach 96 km/h (60 mph) in a brisk 4.1 seconds while recording 1.1 g of lateral acceleration as well as 1.25 g of maximum braking deceleration. Three different exhaust systems are available for the 4C Spider with the range-topping Akrapovic dual-mode exhaust providing the rawest and most all-encompassing soundtrack. Elsewhere, the standard exhaust system is available alongside a racing exhaust from the factory.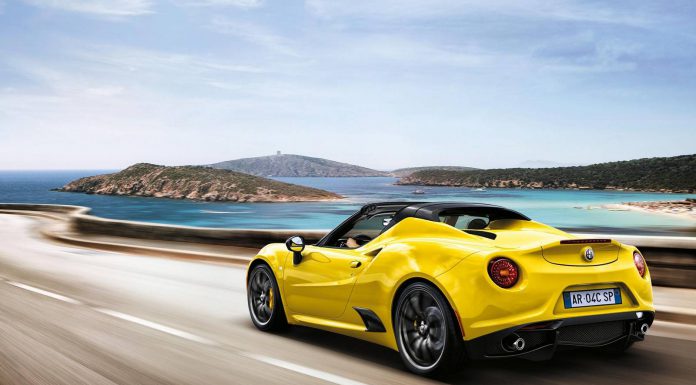 Mated to the engine is a paddle-shift dual-clutch transmission which can pump through gear changes in a brisk 130 milliseconds at full throttle. The transmission also offers a selection of different driving modes with 'Race' mode being the most hardcore as it optimises the engine, transmission, electronic differential and electronic stability control system.
[showhide]
"European Alfa Romeo 4C Spider to debut at Geneva Motor Show
As with the Coupé its distinctive Spider styling is driven by the quest for light weight, simplicity and aesthetic purity
No compromise in terms of performance and driving pleasure compared to the hardtop
New features include covered xenon headlamps, upgraded audio system, new colour and interior finishes and optional dual-mode Akrapovič exhaust
On sale in the UK in the summer priced from £59,500 OTR
The new Alfa Romeo 4C Spider will make its European debut alongside the latest Alfa Romeo 4C Coupé during the press preview day of the Geneva Motor Show on March 3 2015. The Coupé enjoys a number of significant changes for 2015, including more standard features and a wider range of options, but it's the new Alfa Romeo 4C Spider that will undoubtedly dominate the limelight.
Sharing much of its exterior design with its award-winning sibling, the 4C Spider is most noticeably different when viewed from behind, where its pronounced buttresses and body-coloured engine cover, complete with three heat extractors and a subtle rear spoiler, are clearly visible. There are changes at the front, too, with new, covered, projector-style xenon headlamps as standard and rounding out the aesthetic appeal of the Alfa Romeo 4C Spider, a vibrant new Giallo (yellow) paint scheme also joins the colour palette.
Built around an ultra-lightweight carbon fibre monocoque, weighing just 107kg, minimal structural enhancements were required to transform Coupé into Spider. The main developments include a new aluminium rollover structure, which is nestled underneath the black "halo" (a carbon fibre halo is optional), a specially-developed carbon fibre windscreen frame and an engine compartment cross-member made from high-strength steel. Special attention has been paid to the aerodynamic characteristics of the Spider to ensure minimal wind and noise intrusion, while a removable and stowable cloth roof can be installed to protect occupants from the elements. An optional carbon fibre hardtop will also be available.
New performance features to debut on the Alfa Romeo 4C Spider include the optional Akrapovič titanium exhaust system which is mounted centrally, finished with carbon fibre bezels and offers switchable modes which can be selected depending on the driving environment and driver inclination. A new carbon-fibre air intake system, engineered to provide additional transmission cooling for track-focussed drivers, also joins the options list, while a number of all-new wheel designs debut on the 4C Spider too, either in 17/18-inch (front/rear) or 18/19-inch sizes and in silver or dark finishes.
Inside, a new audio system is now available with wide-ranging device connectivity including Bluetooth phone calling and music streaming. To further enhance the Spider's cabin it can be trimmed in premium leather with accent stitching and carbon fibre vent surrounds to create a more luxurious ambience for the occupants. A traditional tan leather interior is also offered as an option for the first time.
Powered by the same, all-aluminium, 240hp, 258lb.-ft., 1750 TBi engine as the Coupé, performance is on a par with the hardtop model, with a top speed of 160 MPH and a 0-to-60 MPH time of less than 4.5-seconds, as well as the capability to generate the same 1.1g of lateral acceleration and 1.25g of braking deceleration as the Coupé.
The Alfa Romeo 4C Spider was designed by Alfa Romeo Centro Stile and will be produced at the Maserati plant in Modena, Italy, alongside the Alfa Romeo 4C Coupé, which also benefits from a number of features which were previously optional now being made standard, including the Alfa Hi-Fi sound system; luxury floor mats; Bi-LED headlamps with carbon fibre surrounds; an Alfa Romeo 4C car cover and Alfa Romeo car care kit, while parking sensors and cruise control are now free options. The covered, projector-style xenon headlamps and Giallo paint will also be made available as an option on new Coupés later in the year.
Due to the increased level of standard specification, prices for the new Coupé now start from £51,500 OTR while the Alfa Romeo 4C Spider will be priced from £59,500 OTR when order books open."
[/showhide]