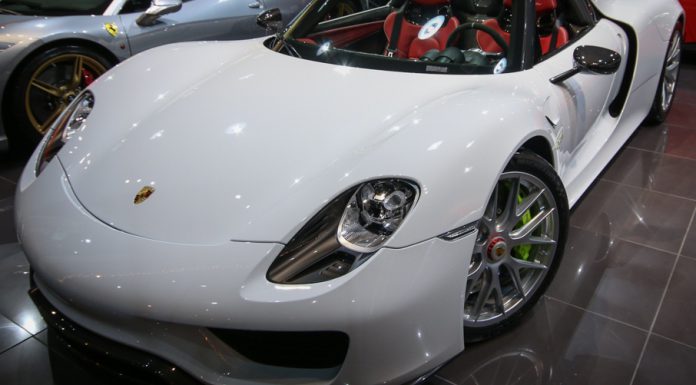 All examples of the Porsche 918 Spyder, McLaren P1 and Ferrari LaFerrari hybrid hypercars are sold out. Consequently, the only way interested supercar buyers can purchase them is waiting for slightly used examples to hit the market or for third-party dealerships to begin offering the examples they ordered from the car's respective factories.
The following Porsche 918 Spyder is one of a small handful of 918s to go on sale in recent months and currently resides in Dubai of course in the United Arab Emirates. While no mileage details have been revealed, it seems likely that it only has delivery miles under its belt.
Visually, this is an impeccably sophisticated example. As a result, it combines a gloss white paint finish with gunmetal grey wheels, red centre locks and green brake calipers. Additionally, it has been installed with the optional Weissach package which means the wing mirrors and rear wing are finished in carbon fibre. Additionally, new carbon fibre aero elements are found at the rear alongside the amped up diffuser.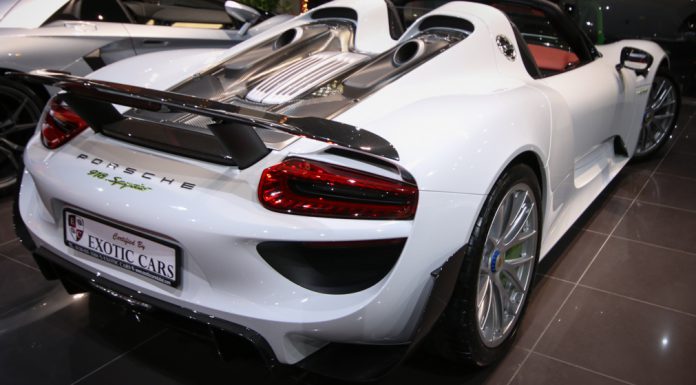 The interior is then adorned in red leather across the seats, centre console, transmission tunnel, the upper part of the door panels and the dashboard. Additionally, alcantara covers the steering wheel while a number of carbon fibre accents are also present.
Under the hood, the Porsche 918 Spyder of course uses a mid-mounted 4.6-litre V8 engine producing 608 hp independently – the highest specific power of any naturally aspirated Porsche engine. The V8 is then supplemented by a further two electric motors mounted on each axle. The electric motors can either drive the wheels independently or work together with the engine to boost performance. Each motor produces enough power to boost the total figure to an amazing 887 hp. A seven-speed Porsche Doppelkupplung (PDK) controls power delivery to the rear wheels.