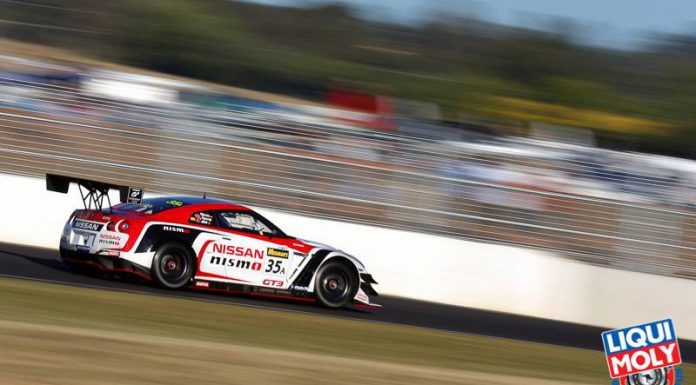 Nissan has won the 2015 Bathurst 12 Hour race presented by Liqui-Moly at the Mount Panorama Circuit in Australia. This was Nissan's first Bathurst win since 1992 and it comes shortly after their recent announcement of returning to Le Mans in 2015. The win was made possible by Japanese driver Katsumasa Chiyo in a Nissan GT-R GT3 fielded by NISMO Athlete Global Team.
Chiyo claimed the victory in the final lap that saw a sprint between a Phoenix Racing Audi R8 LMS, a Craft Bamboo Racing Aston Martin and the Bentley Team M-Sport Continental GT3. The #10 Bentley Continental GT3 driven by Matt Bell was in the lead during the final restart in a race that saw a total of 20 safety car periods. Chiyo in the Nissan was flying past each car all the way to the top contenders.
Lauren Vanthoor driving the Phoenix Racing Audi R8 LMS Ultra was the first of the top contenders to be passed in turn one. Emerging out of turn one onto a straight, Chiyo took advantage of the extremely fast Nissan GT-R to eliminate the leading Bentley all the way to a triumphant victory. Vanthoor in the Audi finished in second place albeit first in the Pro-Am class leading the Craft Bamboo Racing Aston Martin and Matt Bell's Bentley Continental GT3 in fourth.
Out of the 50 cars that started the 12-hour race, only 34 were able to finish; two other Bentley's were among the non-finishers. Erebus Motorsport had brought in a series of young drivers who finished in fifth overall in a Mercedes-Benz SLS AMG GT3. Vicious Rumour Racing gave Ferrari a podium win by finishing second in the Amateur class and sixth overall. Pole winners JBS Australia with a Lamborghini Gallardo GT3 finished in seventh place overall.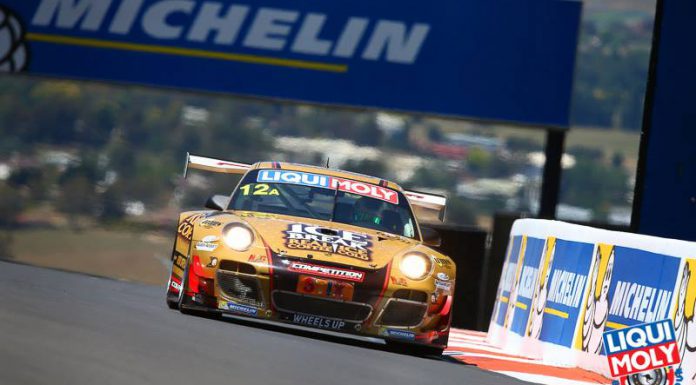 In Class B comprised of Porsche 911 GT3 Cup cars, Koundouris Racing claimed a thrilling win ahead of Groove Group Porsche 911 GT3 while Motorsport Services settled for third place. The Koundouris Racing Porsche was piloted by brothers James and Theo Koundouris. The Lotus Exige Cup R of Tony Alford, Peter Leemhuis and Mark O'Connor finished first in Class C while the Queensland BMW 1M finished first in Class D.
Marc Cars Australia won the Recaro Invitational Non Production class with a Ford Focus powered by a V8 engine. The car finished in 15th place overall.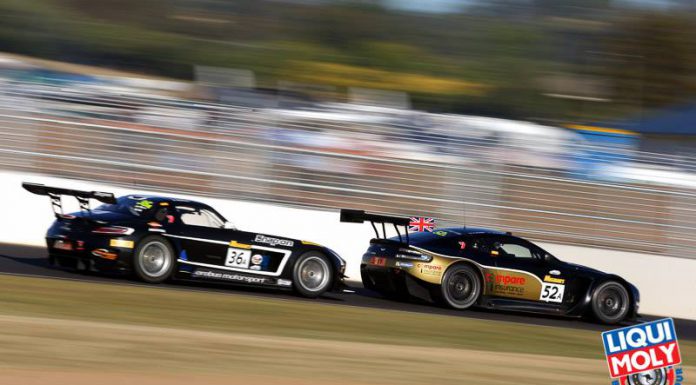 Video: 2015 Bathurst 12 Hour Last Lap Battles
[youtube]http://www.youtube.com/watch?v=je72o7ywW4U[/youtube]
Results: