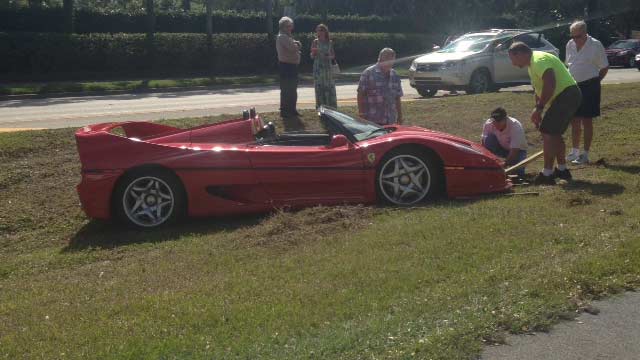 The Ferrari F50 is one of the Italian brand's most coveted cars. Only 349 were made, making it the rarest of all the modern Ferrari hypercars. To hear that one of those examples was involved in an accident over the weekend is concerning.
The accident happened on Vanderbilt Beach Road in Naples, Florida. We are told that the Ferrari F50 was hit by a Lexus SUV, causing the driver to were, narrowly avoiding a second collision with a black BMW. As you can see, the car then spun into the centre median where it came to rest.
The police statement indicates that there were no major injuries. The Ferrari looks fine cosmetically, but one of our readers claims the rear differential has been destroyed. The pictures don't reveal the other side of the car. It could potentially have sustained bodywork damage too.
Ferrari F50 values have been sky high recently, following the release of Ferrari's latest and greatest, the LaFerrari. Our friends over at RM Auctions sold a US example at their Arizona sale last year for $1,65 million.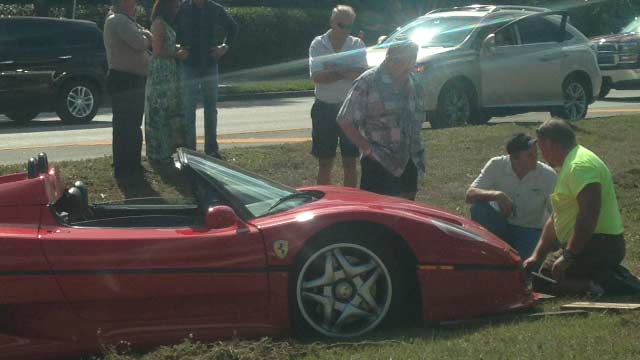 The Ferrari F50 was conceived as a celebratory 50th anniversary model. It uses a 4.7-liter version of the V12 1990 F1 engine. With 520 hp, it is hardly short on power. Obviously those specifications are of little assistance when you find yourself spinning in circles on the highway.
Hopefully the damage is repaired pretty quickly and the owner is able to enjoy his stunning car on the road again! Thanks to our reader, Peter Dowd, for the additional pictures.