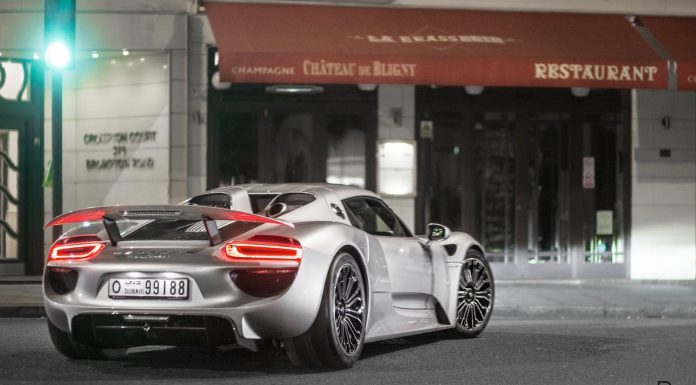 The Porsche 918 Spyder is one of three hybrid hypercars on sale today and very recently sold out globally! The deliveries of the 918 examples began in 2014 and will continue throughout 2015.
Todays Photo Of The Day features a 918 that was flown over from Dubai to London and was snapped by Pure Power Photography. The car, finished in silver, does not feature the hardcore Weissach package but still look fantastic and packs some serious performance figures.
Under the hood, the Porsche 918 Spyder of course uses a mid-mounted 4.6-litre V8 engine producing 608 hp independently – the highest specific power of any naturally aspirated Porsche engine. The V8 is then supplemented by a further two electric motors mounted on each axle. The electric motors can either drive the wheels independently or work together with the engine to boost performance. Each motor produces enough power to boost the total figure to an amazing 887 hp. A seven-speed Porsche Doppelkupplung (PDK) controls power delivery to the rear wheels.
For more on the Porsche 918 be sure to check out our review!