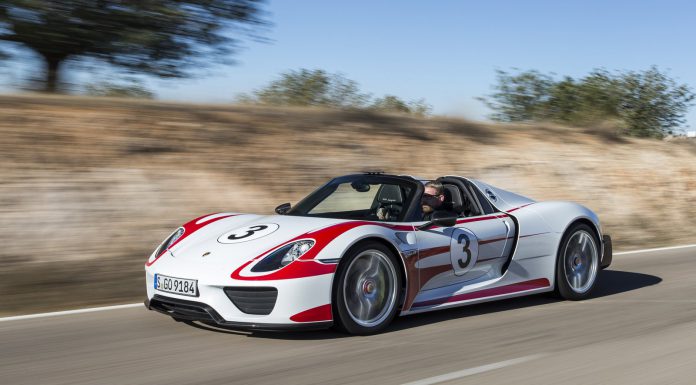 Keeping true to its word, Porsche has just announced that the Porsche 918 Spyder has officially sold out with all 918 examples finding homes around the world.
When Porsche originally announced that 918 examples of the hybrid hypercar would be produced, some pundits suggested that such a number was too high considering 375 units of the McLaren P1 and 499 of the LaFerrari are being created. Despite this, the German marque was always confident the Porsche 918 Spyder would sell out and it has done just that.
While discussing the news, Porsche's head of research and development, Wolfgang Hatz said, "I was always convinced we'd sell out, and what is most satisfying is that the sales have accelerated as reviews confirmed the car is everything we promised it would be.
"We set out to take a different approach to our rivals, to build a car that was at the extremes of performance and efficiency, and we proved that we could achieve both. Our customers now know that we are ready for whatever the future holds," Hatz said.
Alongside confirming that the 918 Spyder has sold out, Porsche confirmed that it will build a successor to the 918. According to Hatz, "not immediately, but not in 20 years' time either. When you build such a car you learn so much, and this business moves so fast that there are always new challenges to meet."
Under the hood, the Porsche 918 Spyder of course uses a mid-mounted 4.6-litre V8 engine producing 608 hp independently – the highest specific power of any naturally aspirated Porsche engine. The V8 is then supplemented by a further two electric motors mounted on each axle. The electric motors can either drive the wheels independently or work together with the engine to boost performance. Each motor produces enough power to boost the total figure to an amazing 887 hp. A seven-speed Porsche Doppelkupplung (PDK) controls power delivery to the rear wheels.