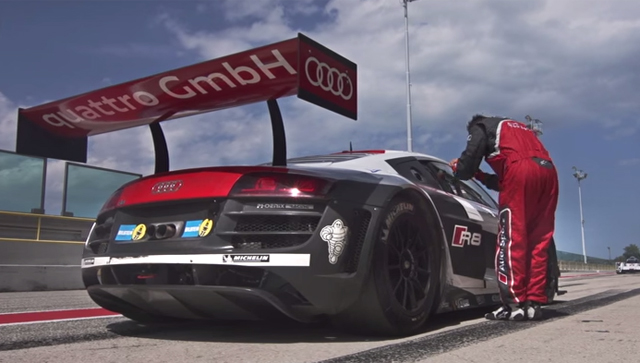 Driving a racing car certainly isn't an opportunity many people get. However, Evo Magazine's Richard Meaden recently had the incredible chance to drive the 2014 Nurburgring 24 Hours winning Audi R8 LMS Ultra which competes in GT3 racing at the Misano World Circuit.
[youtube]https://www.youtube.com/watch?v=P7oasJWxTYI#t=297[/youtube]
In the video, Meaden reveals that one of the most surprising things about the race-focused Audi R8 is just how many similarities it has with the road-going Audi R8 V10. With significantly less weight and much more downforce than the road car however, it can lap a circuit at truly ferocious, break-neck speeds the road-car could only dream of achieving.
While the existing Audi R8 LMS has been so successful, work is currently underway on its successor based around the second-generation Audi R8 set to arrive this year. We know that the road-going 2nd gen Audi R8 will be available with uprated variants of the existing 4.2-litre V8 and 5.2-litre V10 engines and made available as a purely electric e-tron model as well.