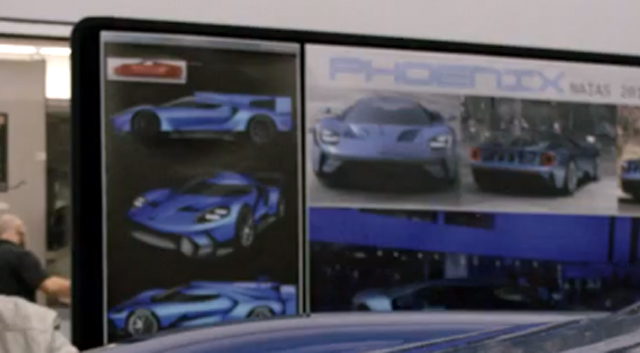 Just a couple of days ago, a video was released of the 2016 Ford GT in collaboration with Forza Motorsport describing the design and some of the development behind the latest American supercar. Now it has emerged that in that video, images of the new Ford GT Le Mans racer were potentially featured, albeit briefly.
As the screenshot above shows, there were three digital renderings of what certainly appears to be a third-generation Ford GT based endurance racer finished in the same blue as the original display car.
Those images show the new Ford GT with a significantly revised front fascia incorporating enlarged air intakes and what appears to be a more prominent splitter. Most interesting however, is the fact that the car appears to feature a large roof scoop as well as a shark fin aerodynamic piece like current LMP1 and LMP2 entrants.
This potentially suggests that the American marque could return to endurance race in the LMP2 class rather than with a Ford GT to compete in the GTE class. Either way, the 2016 Ford GT is pinned to hit the race track in the World Endurance Championship next year as well as the 2016 TUDOR United SportsCar Championship.
As a reminder, the road-going 2016 Ford GT features Ford's most powerful EcoBoost production engine ever and just as speculated, it is a twin-turbocharged 3.5-litre V6 unit delivering more than 600 hp. Final specifications have yet to be released nor have performance times, but one can be assured the 2016 Ford GT will be faster off the line and feature a higher top speed than the previous-generation Ford GT. This engine makes use of dual fuel-injection as well as a low-friction roller-finger-follower valvetrain and is paired with a seven-speed dual-clutch transaxle transmission.