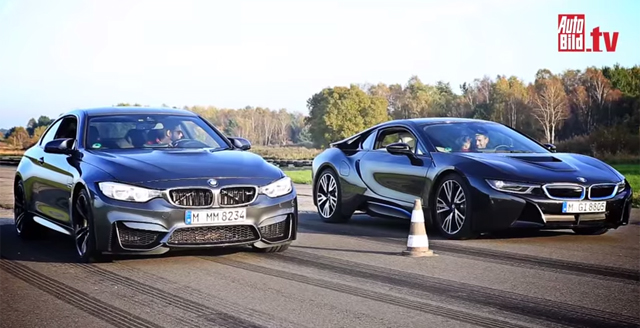 As arguably BMW's most performance oriented models, the new F80 M4 and the hybrid i8 couldn't be any more different. While they provide similar straight line performance, they do so in completely different ways and to find out just which is indeed faster in a straight line, the two were recently pitted together for a drag race.
[youtube]https://www.youtube.com/watch?v=XNcgmymfPOs#t=115[/youtube]
We won't ruin the result for you but here is how they stack up on paper. Under the hood, both the new M3 sedan and M4 coupe are of course fitted with a twin-turbocharged six-cylinder engine revving to 7,600 rpm and producing an impressive 431 hp between 5390 rpm and 7000 rpm and 406 lb-ft of torque from a low 1800 rpm to 5390rpm. That torque figure is available across a broad rev range and is an improvement over the outgoing BMW E92 M3 of 40 per cent.
By comparison, the BMW i8 uses brand new three-cylinder petrol engine with BMW TwinPower Turbo technology. From 1.5 litres, the i8 manages an output of 231 hp and 320 Nm of torque. Power is sent to the rear wheels via a six-speed automatic gearbox. The petrol engine is supplemented by an electric motor with an output of 131 hp and maximum torque of 250 Nm.