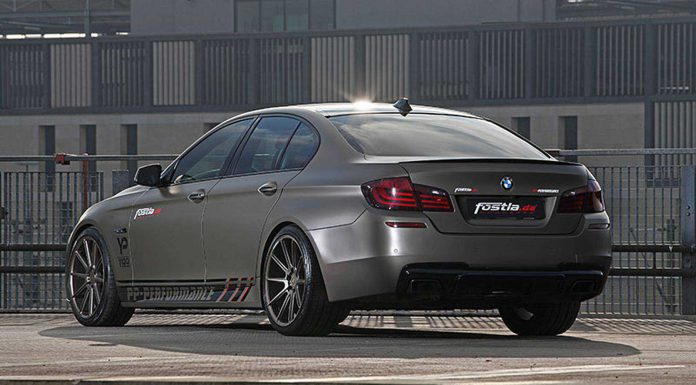 Fostla.de has just completed work on a very special BMW 550i and has modified the car from all areas. The tuner has made a name for itself in recent times for its eye-catching designs and this 550i is certainly no different.
First and foremost, Fostla.de wrapped the 550i with a Grey Olive Matte Metallic wrap which has been inspired by the finish of a stealth bomber. Additionally, a number of gloss black elements can be found particularly with the wing mirrors, front splitter and rear diffuser.
Other key visual modifications include the installation of H&R lowering springs which drop the ride height by 35 mm as well as the fitment of Yido Performance YP1 wheels which are 20×9 at the front and 20×10 at the rear. Finally, 5 mm wheel spacers have been installed.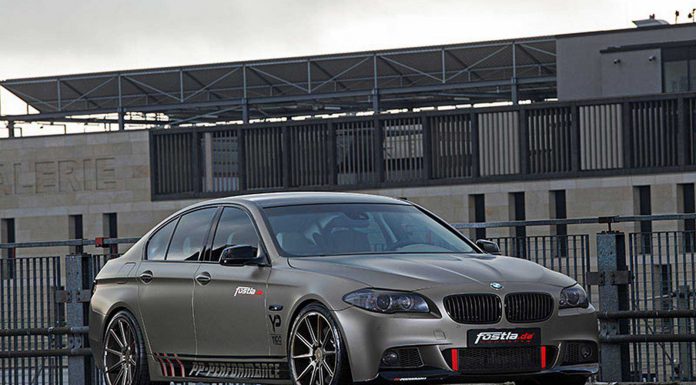 Mechanically, Fostla.de has installed a racing sports exhaust system with new downpipes as well as tinkered with the ECU. All up, power has been increased from 408 hp to 552 hp with torque also rising dramatically from 600 to 800 Nm.
[showhide]"Dear Sir or Madam,
we are pleased to inform you about our latest press release: fostla.de, BMW
550i – more "steam" than M5 series
The car wrapping trade has left its childhood behind since a longtime. The
first efforts in these fields have earned only shakes of head. Meanwhile,
nevertheless, the advantages of car wrapping instead of coloring have found
repartition all over the land, all over Europe and even all over the world.
Uncontested the fact that fostla.de at Seelze near Hanover, Germany, figures
among the "First Addresses" in fields of car wrapping. When at the same time
the client wishes to have a power improvement for his car, the Hanover team
thanks to the PP-Performance cooperation will be above all THE PARTNER in
general.
So things have been with a BMW 550i F10. The full wrapping in
urban-Taupe-mat-metallic or also gray-olive-mat-metallic makes the gentle
viewer more easily think of a kind of four wheeled stealth bomber. The
absolutely professionally applied by fostla.de foil gets perfect contrasts
thanks to accents like the shiny-black wrapped shadow-line-elements.The
windows, as also the front and rear lamps are tinted, of course. The mounted
on the front bumper lip and the rear diffusor are in shining-black again.
Parts of the interior boast with wrappings in selfcreated by fostla.de
design. The sports steering wheel is coated with leather and soft
cushioning.
The V8 with its 4.4 liters of engine size and M-packet is not a child of
sadness originally. H&R lowering springs give 35 mm more of "dip". The
wheelset consists in Yido Performance YP1 Talia 20 inches in 9×20 ET35 on
front and 10×20 ET35 on rear axle. This rim set is offered by fostla.de –
besides other rims for other prices – for 2,000 € including certificate. The
Michelin Pilot Sports tires in 245/35ZR20 on front and 285/30ZR20 on the
rear axle make a first class wheel-tire-combination, before mounting have
been added 5 mm wheel spacers. The racing sports exhaust system incl.
downpipes contribute their part to the M5 performance.
Apropos performance: As everywhere known, fostla.de is PP-Performance
contract dealer for Hanover and whole Northern Germany. That is the reason
for that the engine of the Bavarian car had to suffer a PP-Performance
refitting containing stage-2 motor electronics modification, downpipes and
Vmax unlocking for 4,299 €. In the result, there is a power enhancement from
408 HP (= 300 kW) up to 570 PS (= 419 kW) and torque improvement from 600 up
to 800 Nm. For comparison: M5 F10 brings along "only" 560 HP (= 412 kW) and
680 Nm, but for a significantly higher total price beyond 100.000 €.
The price for the complete refitting of the presented here BMW 550i F10 V8
Bi-Turbo 4.4 with M-packet comes to 15.000 €. Please take your pocket
calculator …"[/showhide]