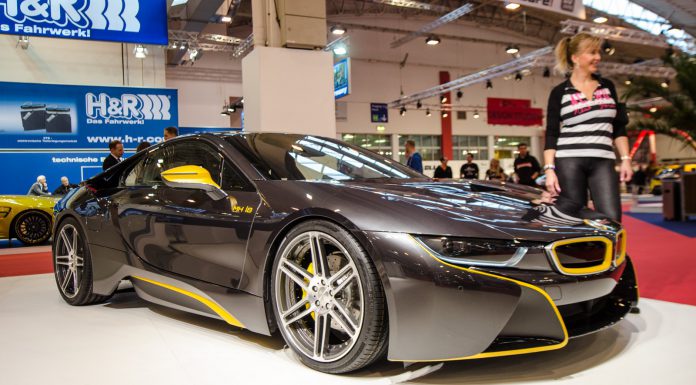 Earlier this year, Manhart previewed its tuned BMW i8. Now the complete car has been put on display at the Essen Motor Show 2014 and it delivers even more than the original renderings promised.
First of all, the car is finished in the Sophisto Grey shade from the factory with it joined by a selection of matte yellow accents. These include the wing mirrors, front grille surround, accents on the front bumper and elements of the side skirts and rear fascia.
Additionally, the Manhart BMW i8 is rolling on a special set of Manhart wheels alongside a new sports suspension setup which drops the ride height by 30 mm both at the front and at the rear of the hybrid sports car.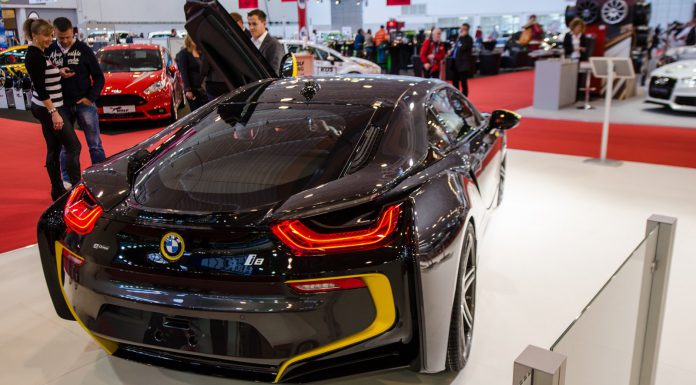 For the moment, Manhart has yet to tweak the powertrain of the BMW i8. With that being said, the German tuning company is promising to fettle with the mechanicals of the car in the future. As it stands, the Manhart BMW i8 utilises a brand new three-cylinder petrol engine with BMW TwinPower Turbo technology. From 1.5 litres, the i8 manages an output of 231 hp, a maximum torque of 320 Nm and rear wheel drive. Power is sent to the rear wheels via a six-speed automatic gearbox. The petrol engine is supplemented by an electric motor with an output of 131 hp and maximum torque of 250 Nm. The power from this lithium-ion high-voltage battery is channelled through the front wheels via a two-stage automatic transmission.
The combinations mean that the BMW i8 is able to produce 362 hp maximum power and 570 Nm of torque. Performance is 0 to 100 km/h in 4.4 seconds with both engine and electric motor engaged. The BMW i8 manages economy figures of 2.5 litres per 100 km or 113 mpg in imperial measurements.