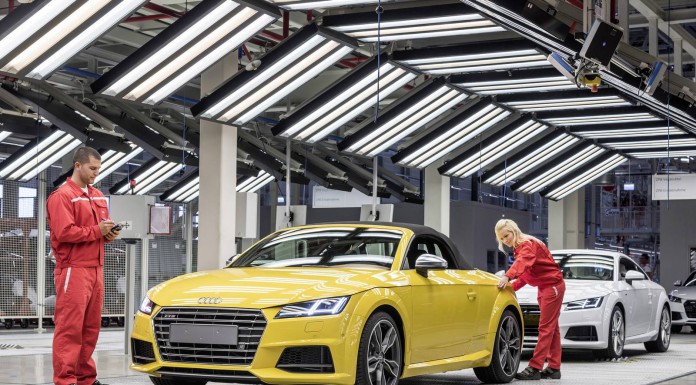 Production of the third-generation Audi TT Roadster has just kicked off at the German marque's Hungary production facility. The new TT joins the Audi A3 sedan, A3 Cabriolet and the new TT Coupe to be produced at the plant.
Discussing the news, Audi chief executive Rupert Stadler said, "The start of production of the new Audi TT Roadster underscores Audi Hungaria's position in our worldwide production network. The Győr site makes a significant contribution to our growth and strengthens our international competitiveness."
Production at the facility started in June 2013 and since then, has been responsible for producing more than 100,000 cars. It employs approximately 4000 people and when launched, was Audi's first factory outside of Germany for 21 years.
As for the new TT Roadster itself, the exact same engines as the TT coupe are available in the 2015 Audi TT and TTS Roadster variants. Consequently, the entry-level model utilises a 2.0-litre TDI Ultra diesel engine delivering a total of 181 hp as well as 280 lb-ft of torque. While these figures aren't revolutionary, the diesel equipped Audi TT models are more focused on fuel economy with the small engine sipping through just 4.3-litres of petrol per 100 km. That equates to 54.7 mpg in the United States of 65.7 mpg in the UK.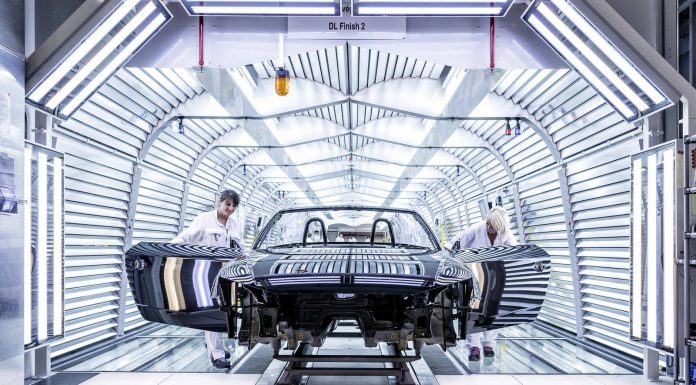 The next step up in the range of engines is the 2.0-litre TFSI. It delivers a total of 227 hp and 273 lb-ft of torque just like the 2015 Audi TT coupe. At the top of the range is the TTS Roadster compete with its thoroughly uprated 2.0-litre TFSI petrol engine. Tuned to deliver a total of 306 hp as well as 280 lb-ft of torque, the 2015 Audi TTS Roadster will sprint to 100 km/h in a respectable 4.9 seconds as well as an electronically limited top speed of 250 km/h.