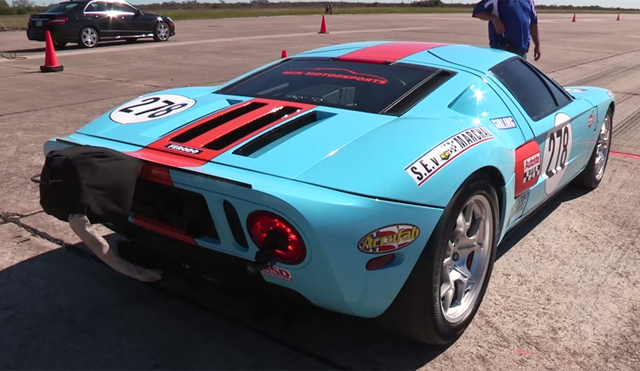 As it stands, the Hennessey Venom GT is the world's fastest production car with a top speed of 435 km/h (270 mph). Unfortunately, it is not considered the fastest production car by Guinness because so few examples are pinned for production. Nevertheless, Hennessey is planning an even more potent second-gen Venom and with the Koenigsegg One:1 promising an incredible 440 km/h top speed, the top speed wars are far from over.
[youtube]https://www.youtube.com/watch?v=qnU4j2qqJUQ#t=110[/youtube]
While such speeds sound virtually impossible for a production car, a selection of heavily modified Ford GTs can reach well over 400 km/h and the following Gulf Racing themed example is one of them. As a matter of fact, it recently reached an amazing 440 km/h (273 mph). To make that speed even more impressive, it achieved it in just 1 mile!