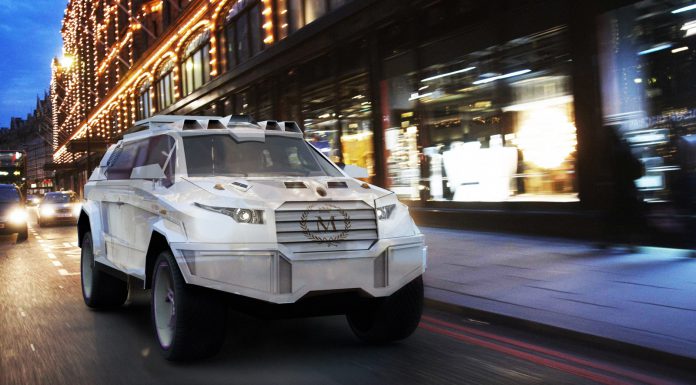 Additionally images and details about the brand new Dartz Prombron Black Shark have just been revealed. As arguably the company's most insane armoured off-roader ever, the Prombron Black Shark epitomises power, force and excess. Just 10 examples are destined for production with five of them heading to China.
Interestingly, the Black Shark actually acts as Dartz's first in its new-generation range of vehicles dubbed the PRVY. This line-up replaces the Kombat line dating back to 1998.
Based around the platform of the Mercedes-Benz GL63 AMG, the Prombron Black Shark features a completely custom body as well as some serious engine modifications. From a styling perspective, the Prombron Black Shark is definitely a case of function over form. It looks completely unlike the GL63 AMG on which it is based with every single panel completely new. Additionally, a massive set of wheels have been added. The Black Shark can be ordered in black, grey, white, gold or camouflage. With that being said, custom paint finishes are available at the customer's request.
[youtube]https://www.youtube.com/watch?v=3AxVMIPgdfc[/youtube]
Some of the key features include electrochromatic windows and B7-grade armour with the body made from Kevlar and titanium. As a result, the car can withstand magnetic mines. Elsewhere, the Prombron Black Shark uses a bulletproof rotating front grille to ensure no damage can be inflicted to the engine. A fingerprint scanner and retina scanner has also been implemented for additional safety. Another interesting feature is the disappearing door handles which Dartz says act as an "anti-paparazzi shock-device".
As for power, it is equally insane. When fitted with a heavily modified variant of AMGs twin-turbocharged 6.0-litre V12 engine, the Prombron Black Shark is said to develop 1500 hp. Additionally, the smaller AMG twin-turbo 5.5-litre V8 is also available.