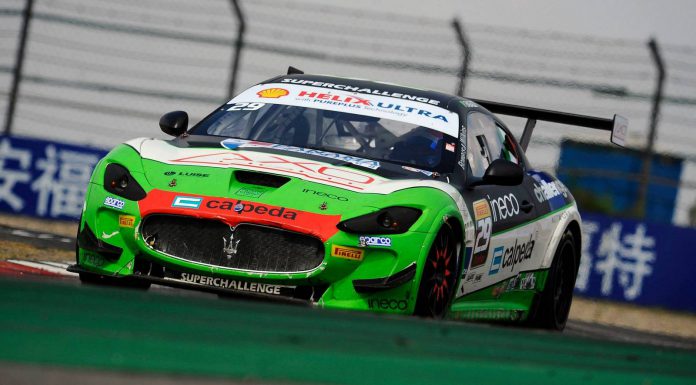 The fifth round of the Maserati Trofeo World Series was in Shanghai this weekend and it was also the penultimate round of the season which saw Swiss Team's Mauro Calamia claim the 2014 drivers'championship.
Race 1:
The race took place on Friday at the Shanghai International Circuit and it was a battle between Calamia, Riccardo Ragazzi and Alan Simoni. Calamia needed the win so as to extend his lead in the championship which he was close to winning. Ragazzi did not make it easy for him as he timelessly tried to go past him but trying too hard cost him the race after he spun out.
Simoni was left to take care of Calamia who was already too fast,. Eventually, he finished second followed by a lucky Alberto Cola. Ragazzi took fourth, meanwhile Calamia scooped the nine points plus an extra three for the three pole positions he secured that afternoon.
Race 2:
The second 30-minute race took place om Saturday and things turned around for Ragazzi. He managed to finish first and close in on leader Calamia. The Swiss Team driver suffered the same fate as Ragazzi after he spun into the grass and lost his chance to win again. Simoni finished second followed by Giorgio Sernagiotto in third.
Excited Ragazzi said, "I was in two minds about attacking Calamia because of the time handicap in the endurance race. Then I just went for it and, as soon as I spotted a gap, I managed to get through. It was pleasing to beat my rival. It was also great to see my ex-team mate, Alan Simoni, and my friend, Giorgio Sernagiotto, on the podium."
Race 3:
The 60-minute endurance race saw a turn of events as Calamia went ahead to claim the 2014 Maserati Trofeo World Series championship. Ragazzi finished in second place followed by Giorgio Sernagiotto in third. After the third lap, Ragazzi snatched the lead from Calamia and when the pit stops came the two drivers had 20 seconds added to them.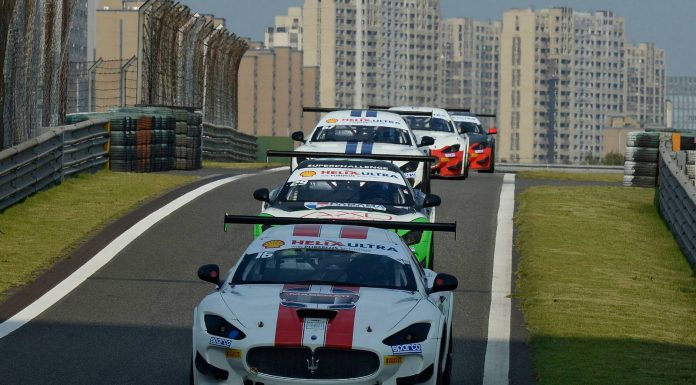 Sernagiotto benefited from a 5 second stop and he took the lead, behind him was Calamia who had managed to sneak past Ragazzi. The Swiss Team driver then pulled a fast one on Sernagiotto to take the win and claim the championship with one more round to go.
Calamia said, "I can finally call myself champion. It is fantastic winning with one round to go, showing my worth on the track. It has been a long and difficult season. At Shanghai, not my favourite circuit, I managed to claim two wins and get the points I needed to take the title. I would like to dedicate this victory to the Swiss Team staff: they have helped me grow and have always supported me."
The final round will go to Dubai on 12th December.