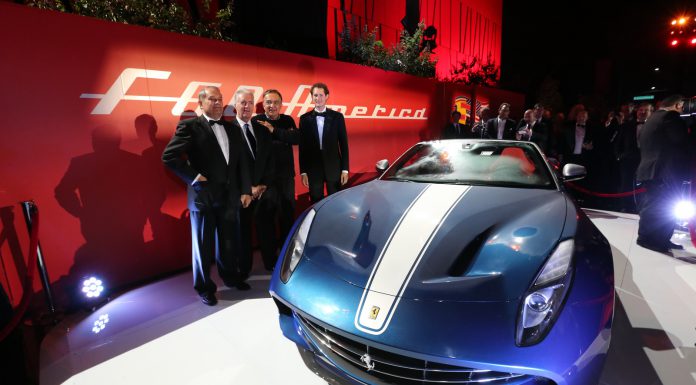 Over the weekend, Ferrari celebrated its 60th anniversary in the U.S. by hosting an epic festival in Beverly Hills and by releasing the limited edition Ferrari F60 America.
The event was held at the Beverly Hills City Hall and was attended by key Ferrari and Fiat figures like the Italian firm's new chairman, Sergio Marchionne, Fiat Chrysler Automobiles chairman John Elkann and Ferrari CEO Amedeo Felisa. A selection of celebrities also attended the event include film star Megan Fox.
During the celebrations, the first Ferrari 458 Speciale A was also sold at auction with more than 60 Ferraris put on display on the famous Rodeo Drive in Beverly Hills. Some of the most exceptional cars displayed included two LaFerraris, a Ferrari Enzo, a couple of Ferrari FXXs and even a Ferrari 250 Testarossa.
As for the aforementioned Ferrari F60 America, it is limited to just 10 examples with each costing $2.5 million. The car is built around the F12 Berlinetta but features a myriad of upgrades to differentiate it from all other Ferrari models produced.
[youtube]https://www.youtube.com/watch?v=UkFyq5ljeo0[/youtube]
First and foremost, the 2015 Ferrari F60 America features a completely unique body. At the front, a brand new fascia has been adopted incorporating a new grille, redesigned headlights and a thoroughly revised bonnet. From the sides, the F60 America again features significant changes including the adoption of new twin 5-spoke alloy wheels.
[youtube]https://www.youtube.com/watch?v=09AhSO5o0zo#t=65[/youtube]
The rear-end also supports a selection of visual changes including different taillights, a new bumper and aggressive diffuser. What's more, the Ferrari F60 America is also a convertible and consequently features two prominent blacked-out rollover hoops and carbon fibre clad buttresses. The F60 America also comes with a fabric top.
Completing the visual changes is a stunning shade of blue incorporating a central white racing stripe to mimic original cars used by the Ferrari North American Racing Team. Additionally, special 60th anniversary badges are found on the wheel arches.