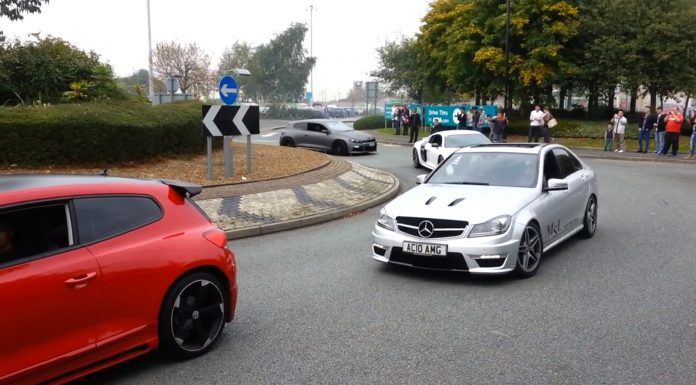 Gumball 3000 held one of their regular meet-ups in Manchester this weekend. For those that haven't heard of Gumball 3000, the event is loosely based upon the Gumball Rally film and the Cannonball Run films of the 80's and 90's. The idea is that around 100 wealthy petrol heads meet in May for a Ralleye in the loosest sense, travelling 3000 miles together with parties across the way.
Inevitably, Gumball 3000 has become a lifestyle sensation for youth and adults alike. The mix of incredible cars with insane parties and flat out speed captures the attention of most it comes into contact with. To connect with its massive fan base, Gumball 3000 has held these informal meet and greets for a few years now. They become more and more popular every year.
[youtube]https://www.youtube.com/watch?v=0Cn_IsB6N8E[/youtube]
Today's meet took place in Manchester with plenty of fans making it a busy day. Unfortunately, the event was somewhat spoiled by two accidents and general chaos in an around the venue, the Trafford Centre in Manchester.
It seems from viewing videos of the event, cars were passing between two mini roundabouts. The first accident involved a Jaguar XFR-S which appears to have suffered a case of lift-off oversteer. The damage to the car meant that the owner wasn't able to drive away from the accident, plenty of onlookers crowded the car following the incident.
[youtube]https://www.youtube.com/watch?v=858gjQVlPeE[/youtube]
The second accident involved a similar scenario, this time with a Mercedes-Benz C 63 AMG. Unlike the Jaguar, the point of impact for the C 63 was its front left headlamp. Again, various onlookers crowded around the car following the accident.
It is massively fortunate that neither driver nor passenger were hurt in the incidents. It also seems fortunate that the wreckage didn't cause any injuries to the 100's of spectators lining the roadside. A further piece of YouTube footage also appears to a scuffle that happened between two YouTube personality Lord Aleem (who was showing his C 63 AMG Coupe) and another attendee.
[youtube]https://www.youtube.com/watch?v=uFGu4eYuXT0[/youtube]
Away from the chaos, there were a number of highlights including tuned C 63 AMG's and a tuned E 63 AMG. We spotted a Manhart Racing tuned BMW M5 as well and a Lamborghini Aventador.