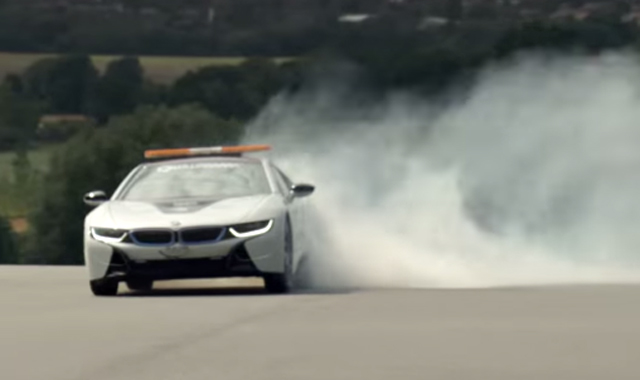 The BMW i8 hybrid sports car certainly hasn't made a name for itself as a wheel spinning monster when taking corners. As the following video shows however, with Formula E driver Nelson Piquet Jr behind the wheel, it can indeed be driven in a real fury!
[youtube]https://www.youtube.com/watch?v=EkD1ODP_A2U[/youtube]
The video showcases the men behind Qualcomm explaining how their wireless charging technology works because in case you didn't know, the BMW i8 safety car for the Formula E championship utilises an advanced wireless charging system from Qualcomm.
The wireless charging involves the i8 being parked over a resonant magnetic induction pad with electrical current flowing into the i8's battery pack. Throughout the Formula E season, it will be driven by Bruno Correia.
The drive system of the BMW i8 utilises a brand new three-cylinder petrol engine with BMW TwinPower Turbo technology. From 1.5 litres, the i8 manages an output of 231 hp, a maximum torque of 320 Nm. Power is sent to the rear wheels via a six-speed automatic gearbox. The petrol engine is supplemented by an electric motor with an output of 131 hp and maximum torque of 250 Nm. The power from this lithium-ion high-voltage battery is channelled through the front wheels via a two-stage automatic transmission.
The combinations mean that the BMW i8 is able to produce 362 hp maximum power and 570 Nm of torque. Performance is 0 to 100 km/h in 4.4 seconds with both engine and electric motor engaged. The BMW i8 manages economy figures of 2.5 litres per 100 km or 113 mpg in imperial measurements.