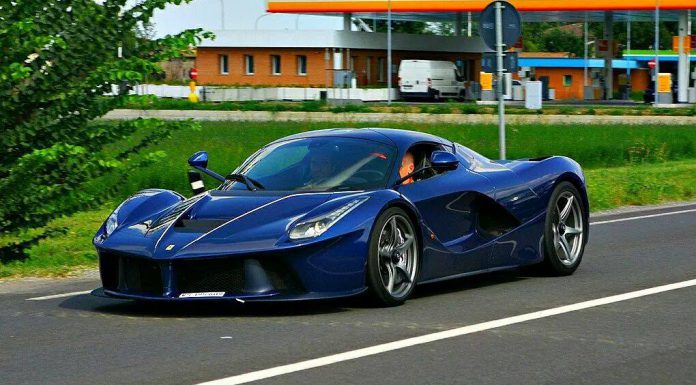 Jay Kay recently shocked the world when he unveiled his bright green Ferrari LaFerrari a few months ago. Unlike models from rival Lamborghini and McLaren, it is rare to find such uniquely coloured Ferraris. Now another stunning and rather rare coloured LaFerrari has been snapped in Switzerland.
Finished in Tour de France Blue, this LaFerrari is certainly one of the most stunning examples we've seen to date.
In case you didn't know, the LaFerrari gets a 6.3 liter V12 which is connected to an electric motor similar to the system on the McLaren P1. The Ferrari F150 V12 has an output of 789 hp at 9000 rpm and 700 Nm at 7000 rpm while its electric motor has a maximum output of 161 hp and 270 Nm of torque. That delivers a total combined power output of 950 hp, allowing the new Ferrari Enzo to do 0-100 km/h in less than 3 seconds, 0-300 km/h in 15 seconds and a top speed in excess of 350 km/h.
[Via Ferrari LaFerrari Switzerland]