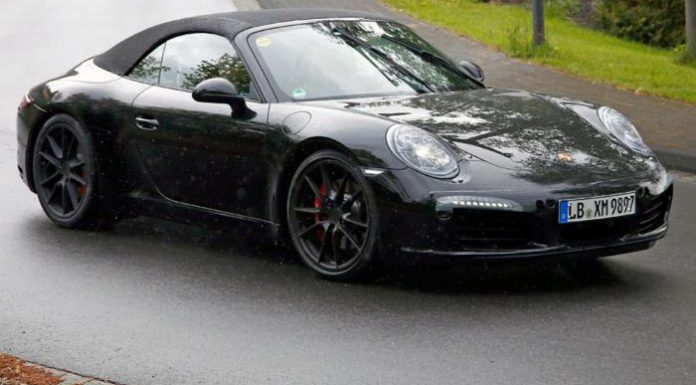 According to Motor Trend contributor Jonny Lieberman, the long-awaited Porsche 911 GTS is set to debut at the upcoming Los Angeles Auto Show 2014 in November.
Alongside this news, Lieberman revealed that when the GTS debuts, it will mark the introduction of the 992-generation Porsche 911. This comes despite the commonly held belief that the midlife facelift of the 991-generation 911 would be the 991.2, or Series II as was done with the 997 and 997.2.
Thanks to a host of spy shots and reports, we know quite a lot about the upcoming Porsche 911 GTS. It will reportedly fill the gap between the current 911 4S and the Turbo. As a result of this, the new 911 GTS will be powered by a 3.8-litre naturally-aspirated flat-six engine delivering around 450 hp. Alongside this upgraded engine, the GTS will come standard with the Porsche Sport Chrono Package and Porsche Active Suspension Management.
From a visual standpoint, the Porsche 911 GTS will feature a modified front bumper as well as slightly tweaked headlights and a set of new wheels. One of the key new features of the revised front bumper will be the implementation of movably horizontal flats in the two air intakes. While it is unclear if these can be adjusted manually or if the car's ECU controls them automatically, they will help improve fuel economy when fully closed.
Elsewhere, we know that the Porsche 911 GTS will introduce a revised rear bumper set to be used by the majority of the facelifted 991 (or 992) variants. As for the 911 GTS, it will use a dual central exhaust system like the existing GT3 and is also likely to debut a newly designed set of lightweight forged wheels from the German marque. Finally, the Porsche 911 GTS will be available both as a Coupe and Cabriolet.
The Los Angeles Auto Show 2014 can't come soon enough!