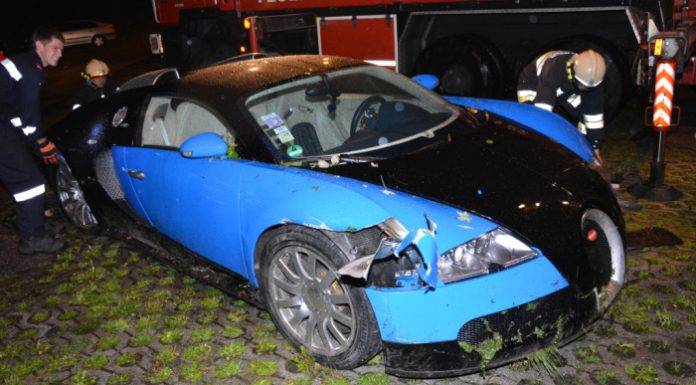 Back in late April, a stunning Bugatti Veyron was heavily damaged following a crash in Austria. The car was travelling along the A2 between Seebenstein and Grimmenstein in the direction of Graz and it is believed that the driver lost control of the French hypercar in the wet conditions. Now the wreck is put up for sale by the insurance company Axa in Switzerland.
As the images show, the damage sustained is quite extensive. For example, the front bumper, front quarter panels, side sills, doors and the floor are damaged quite severely. As a result, any attempt to rebuild the Veyron will be costly especially because individual replacement parts can cost as much as a small hatchback.
The blue / black Bugatti Veyron spun and crashed through a guard rail and fell about 40 metres down an embankment. Fortunately the driver walked away from the accident without any major injuries and the car automatically provided accurate GPS coordinates to the police and salvage crews! It took cranes and two fire department vehicles 1.5 hours to recover the car from its unfortunate position.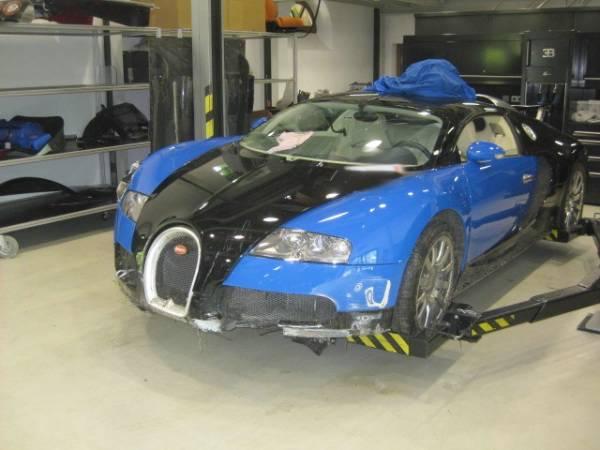 The insurance company considers it a complete write-off and listed the car on an auction website Ricardo with a minimum bid of 100 Swiss Francs. With well over 50 bids already the car currently has a highest bid of 230,000 Swiss Francs but is expected to rise a bit more.
Axa estimates the total repair costs to rebuild the Veyron at between CHF 730,000 and CHF 855,000, which is about 600,000 to 700,000 Euro. Although the damage is mostly to external parts of the car, the ad warns the car could have possible engine and gearbox damage as well. Anyone not afraid of taking some risk could pick up the cheapest Bugatti Veyron on the market today and try to make a buck recovering it to the original state, although we, knowing the cost of running and maintaining a Bugatti, wouldn't burn our fingers on this one.