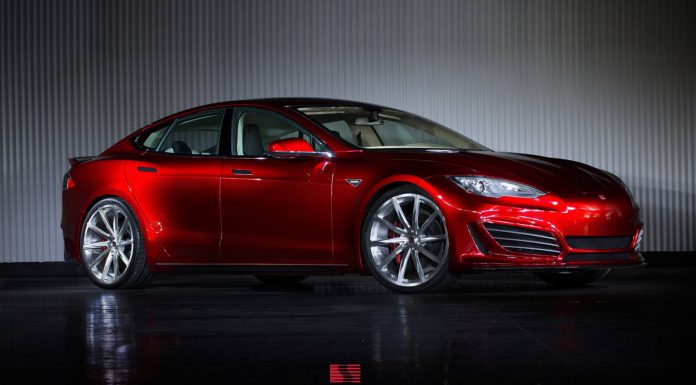 After months of development and the release of recent teasers, the Tesla Model S based 2015 Saleen Foursixteen has officially been introduced.
Getting right into the changes, the Saleen Foursixteen features an ultra-classy new design with a special bodykit. In addition to these modifications changing the look of the car compared to the standard Model S, they have also been implemented for aerodynamic purposes.
At the front, the new bumper incorporates aero management vents which ensure the Saleen Foursixteen maintains a low pressure field at the front as air accelerates across the body. This is further assisted by the V-shaped bonnet which directs hot air away from the drivetrain cooling system while also providing the car with additional downforce at the front. The rear-end sees the adoption of a new fascia as well as a decklid mounted spoiler and a prominent carbon fibre rear diffuser.
As you'd expect from Saleen, the upgrades extend far beyond visual modifications. As a matter of fact, the Saleen Foursixteen now features a new 3-phase, four pole AC induction motor and copper rotor alongside the upgraded Saleen drivetrain. The final gear ratio has also been modified to provide quicker acceleration. While Saleen hasn't said how much power the Foursixteen has, we expect it to be a decent upgrade over the range-topping Model S P85+.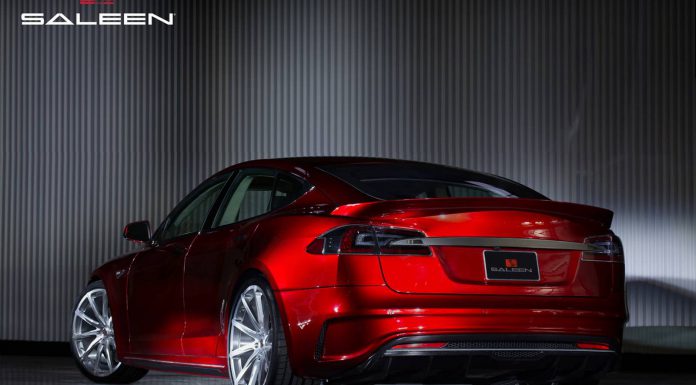 When discussing the drivetrain, Sven Etzelsberger from VP Advanced Engineering said, "Electric drivetrains are unique in that they can generate an incredible amount of torque at zero RPM. Our challenge was really to find methods to manage the energy that is generated by the electric motor and rotor assembly. With the Foursixteen we have successfully found a comprehensive solution to increase performance and harness power in an efficient manner."
Another cool feature of the Foursixteen is the inclusion of a locking rear differential. From a suspension standpoint, new coilovers have been installed alongside new S4 sway bars. The system also provides the driver with a range of adjustments to tune the handling to different conditions. As for stopping power, that is provided by 14-inch 2-piece aluminium vented discs and 'multi-piston' front calipers with performance pads. Carbon ceramic brakes are available as an option.
All up, the Saleen Foursixteen has been priced from $152,000 which includes the base Model S P85+.