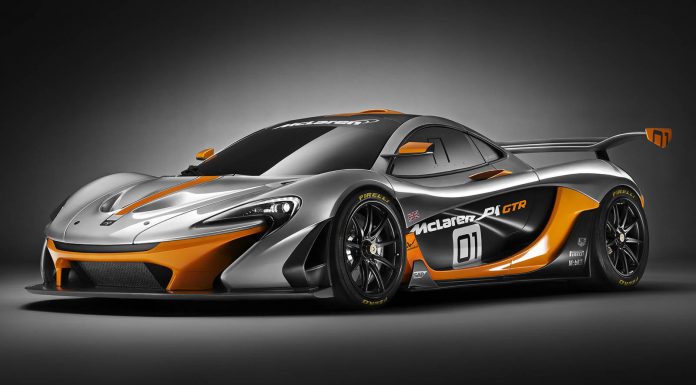 The wraps have been taken off the McLaren P1 GTR Design Concept at the ongoing Monterey Car Week 2014. Created to preview the upcoming ultra-exclusive track-focused variant of the P1 hybrid hypercar, the P1 GTR Design Concept features a range of upgrades setting it apart from the road-going model. It is likely that the production-spec P1 GTR will remain almost identical.
McLaren has one key goal for the P1 GTR, to make it the best driver's car in the world on track and it is promising to be just that. Starting on the aerodynamic side of things, the McLaren P1 GTR is thoroughly upgraded. It further optimises the aerodynamically efficient body shape of the P1 to help produce even more downforce and performance.
The front track has been increased by 80 mm and has been completed with an aggressive front splitter even more pronounced than the road cars. Reprofiled low temperature radiator ducts seamlessly flow into the leading edge of the aggressively flared front wheel arches while the active aerodynamic flaps from the 'normal' P1 have been maintained.
Additionally, new race-prepared suspension has been fitted providing a fixed ride height which is lower than the standard car. The wing mirrors have been repositioned onto the A pillars to put them closer to the eye of the driver and reduce aerodynamic drag. Meanwhile, the trailing edge of the door-mounted radiator channels have been extended to draw more air down through the cavity within the door, and into the engine to aid cooling.
At the rear is arguably the most eye-catching update of the McLaren P1 GTR Design Concept. It is a massive twin-element wing mounted on large carbon fibre uprights. The wing features a Drag Reduction System (DRS) to boost performance and has also been honed to provide extra downforce compared to the road car. Elsewhere, a brand new exhaust system is featured made from Inconel and titanium alloy.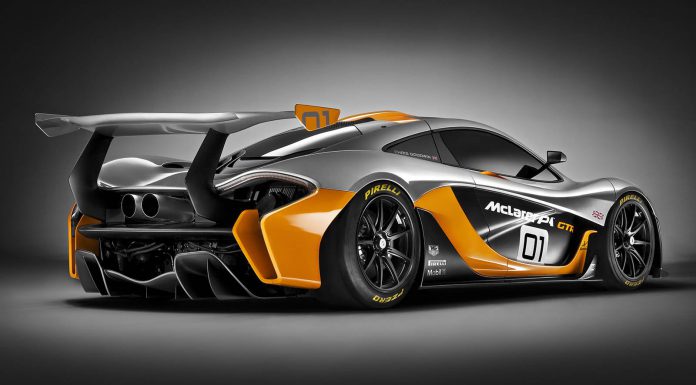 The McLaren P1 GTR Design Concept also wears a livery harking back to the original McLaren F1 GTR test car with it too incorporating a silver and orange livery.
Beyond the aerodynamic changes, the McLaren P1 GTR Design Concept sees a small boost in power with it now delivering 986 hp (1000 ps) compared to the 903 hp of the road car.
Launched alongside the P1 GTR Design Concept is the McLaren P1 GTR driver programme. This is the ultra-exclusive ownership programme and includes specialist driver training, human performance and access to the McLaren racing simulator. McLaren Special Operations will maintain and run all cars and manage the programme.