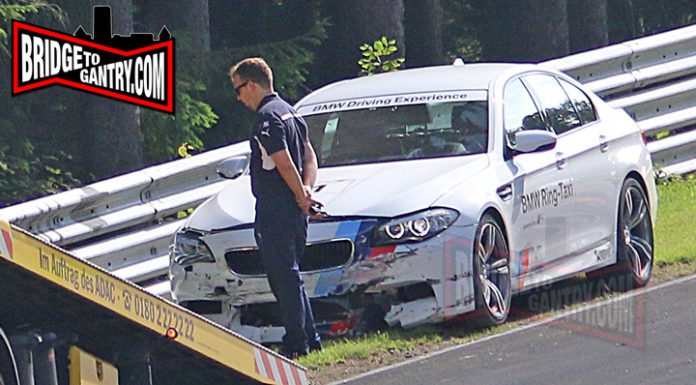 Interestingly, quite a few Nurburgring 'ring taxis' have crashed at the famous circuit over the years, perfectly demonstrating that no matter how experienced, the unforgiving track can catch any driver out. Back in late October last year, a BMW F10 M5 ring taxi crashed and fast forward to early August, and the exact same thing has happened again.
Based on analysis from the scene courtesy of Bridge To Gantry, it has been concluded that the crash was caused by nothing other than driver error.
[youtube]https://www.youtube.com/watch?v=kLdDciLMdv8[/youtube]
It is noted that for quite some time before the crash, a red Porsche 911 GT2 was following the M5 very closely and flashing his lights to get the slower M5 to move right and allow the GT2 through. However, this evidently didn't happen.
As a result, it is quite possible that the M5 driver felt rushed by the GT2 and then went straight into the barrier after oversteering while going around a right hand corner.
Fortunately it doesn't appear as though anyone was injured.
[Via Bridge to Gantry]