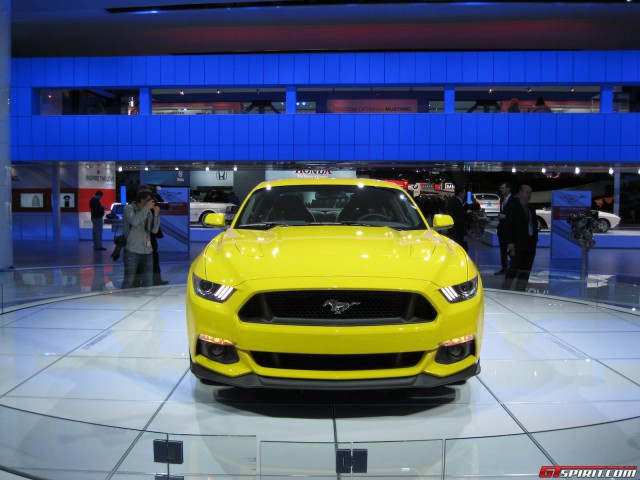 After the 2015 Ford Mustang was revealed late last year, official power details for the latest-gen muscle car have been revealed.
First off, the range-topping Ford Mustang GT features a 5.0-litre naturally-aspirated V8 engine. It manages to produce an impressive 435 hp and 400 lb-ft of torque. To help create the uprated V8, Ford implemented larger intake valves, larger exhaust valves, revised intake and exhaust camshafts, stiffer valve springs, a new cylinder head casting, Sinter forged connecting rods, redesigned piston tops and a rebalanced forced crankshaft.
Elsewhere, the mid-range 2.3-litre EcoBoost four-cylinder engine officially produces 310 hp and 320 lb-ft of torque. The engine delivers an impressive 135 hp per litre and more than 139 lb-ft of torque per litre and it was built specifically for the sixth-gen Mustang.
Some of its key features include a forged steel crankshaft, piston cooling jets, steel piston ring carriers, forged steel connecting rods as well as a high-pressure die-cast aluminium cylinder block with ladder-frame bearing caps.
As for the entry-level 3.7-litre V6 powered 2015 Ford Mustang, it delivers 300 hp and 290 lb-ft of torque.
From a weight standpoint, the 2015 Ford Mustang GT fastback tips the scales at 1691 kg while the 2.3-litre EcoBoost fastback produces 1598 kg. These equate to modest weight gains of between 12 and 87 pounds over the fifth-gen Mustang.