The latest project from Porsche Exclusive has just been revealed in the form of the 2015 Porsche Exclusive 911 Turbo S GB Edition. As the name hints, the car has been created solely for the United Kingdom and will be limited to just 40 units designed to celebrate 40 years of the 911 Turbo.
Beneath the skin, the 2015 Porsche Exclusive 911 Turbo S GB Edition remains the same as the standard 991-generation 911 Turbo S. As a result, its potent 3.8-litre six-cylinder twin-turbocharged engine delivers 552 hp. As a result, the car sprints to 96 km/h (60 mph) in just 2.9 seconds, the same as the mighty Lamborghini Aventador!
Beyond the engine, the 911 Turbo S GB Edition features the same Porsche ceramic brakes, active anti-roll system, Sport Chrono Package Plus and full-LED headlights as the normal 911 Turbo. At this stage, you may be asking yourself where the GB Edition differs?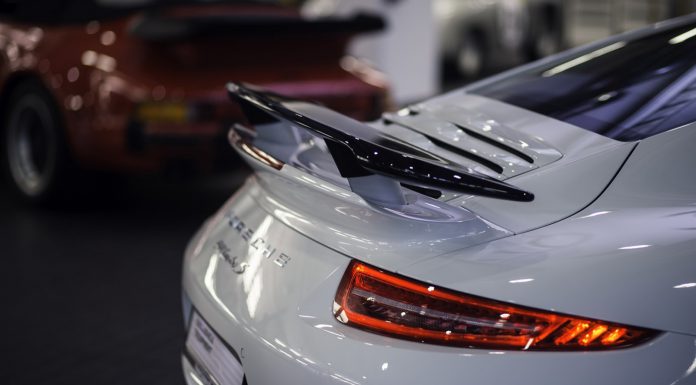 Well, from a visual standpoint. Porsche Exclusive have adopted a new set of gloss black Sport Classic wheels, black exterior door handles as well as black Porsche lettering along both sides of the car. Elsewhere, you'll find black leather with contrasting Guards Red interior stiching, the U.K's flag embroided on the central console, illuminated lettering on the door sills, new floor mats with leather edging and red stitching along with a special photo book and leather key pouch.
Three colours are offered; GT Silver metallic, White and Guards Red with each retailing from 150,237 pounds.