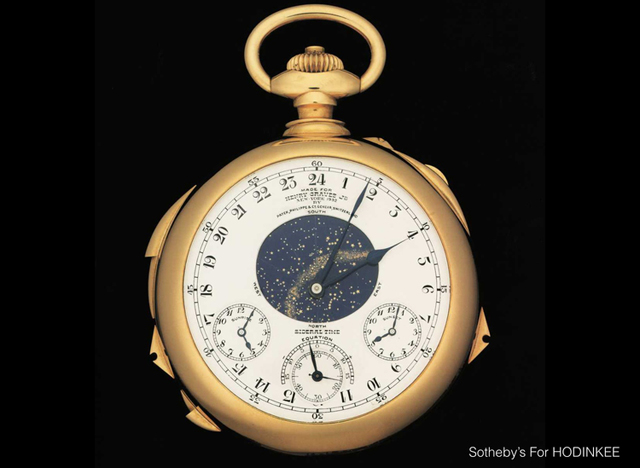 The following watch, the Patek Philippe Supercomplication is likely to break its own record as one of the world's most expensive watches when it goes up for sale in November.
The watch was originally created by Patek Philippe specifically for horological collector Henry Graves Jr. The watch features 24 complications (in the watch world, a single complication is the display of hours and minutes for example). Every other measurement beyond that like displaying the day or date are additional complications. So to put it in laymens terms, the Patek Philippe Supercomplication measures and displays 24 different pieces of information which makes it one of the most sophisticated pocket watches every manufactured. Believe it or not, it took 5 years to make and features over 900 individual parts!
Back in 1999, the Supercomplication was sold at auction for an extraordinary $11 million making it the most expensive at the time. Since then, a watch from Chopard valued at $25 million has taken the top purely for the fact that it features massive pink, blue, white and yellow diamonds totalling 201 carats.
In November, Sotheby's Geneva will be auctioning it off and pre-auction estimates suggest that it could sell for 15 million Swiss or the equivalent of $16.8 million in the U.S. It is reported the watch was previously owned by a member of the Qatari Royal Family who had to give it back to Sotheby after collecting up an $83 million debt to the firm!