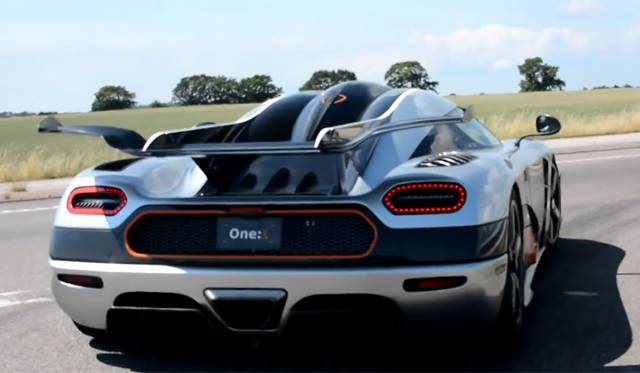 It is believed that just two units of the Koenigsegg One:1 hypercar have been created thus far. The first is a silver example and the official prototype while a bare carbon fibre customer car was recently unveiled at the Goodwood Festival of Speed 2014. Now, footage has emerged of the One:1 testing on Swedish roads and seeing it on the street is quite an incredible sight!
[youtube]https://www.youtube.com/watch?v=pzmOj2p2-_g[/youtube]
The car itself is impressive for a number of reasons. It features a staggering 1 Megawatt of power which converts to 1,341 hp together with 1,371 Nm. This extreme power needs to be read alongside an equally impressive 1,341 kg to fully understand that the Koenigsegg One:1 features a perfect 1 hp to 1 kg power to weight ratio.
The Koenigsegg One:1 is expected to reach speeds in excess of 450 km/h so aerodynamics are key to the One:1 package. Thanks to the new front facia and the Le Mans prototype inspired rear wing, downforce at 260 km/h is equal to 610 kg whilst at 440km/h, the One:1 develops 830 kg. The One:1 is able to pull 2G's of force in the corners!