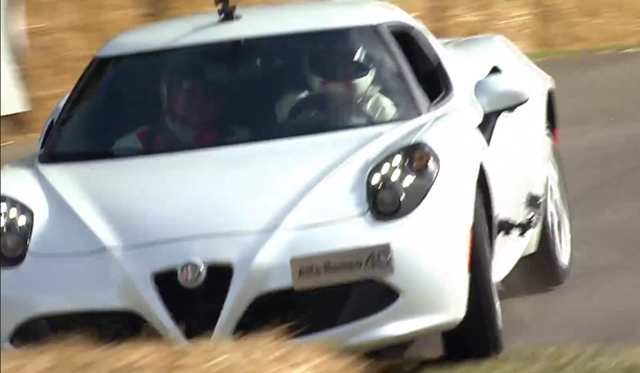 The famous Goodwood hillclimb certainly doesn't seem like a necessarily tricky stretch of tarmac to drive on. However, looks can be deceiving. Consequently, every year at the Goodwood Festival of Speed, numerous cars come off worse for wear and end up crashing. This year, a white Alfa Romeo 4C unfortunately crashed at the difficult Molcomb corner and smashed into some fairly sturdy hay bales.
While the crash certainly looks brutal, both the occupants were able to walk away unharmed which plays testament to both the strength and rigidity of the carbon fibre sports car as well as the effectiveness of hay bales as crash barriers!
In case you didn't know, the Alfa Romeo 4C weighs just 895 kg while its 236 hp turbocharged 1.75-litre engine launches the car to 100 km/h in less than 4.5 seconds and a top speed of over 250 km/h. Alfa however insist that the figures are not what you should be focusing on but instead the compelling driving experience that it a result of the raspy exhaust note, staggeringly low curb weight and high power to weight ratio.
This lightweight construction has been achieved largely thanks to its carbon-fiber tub (that weight just an unbelievable 65 kg), along with several other key areas of weight saving including an aluminium engine block. As with Alfa's of late, the DNA (Dynamic, Normal, All-Weather) drive selector is back but with an addition R for Race mode which adjusts the operational parameters of the engine, transmission, ESC and electronic Q2 differential depending on the driver's requirements.