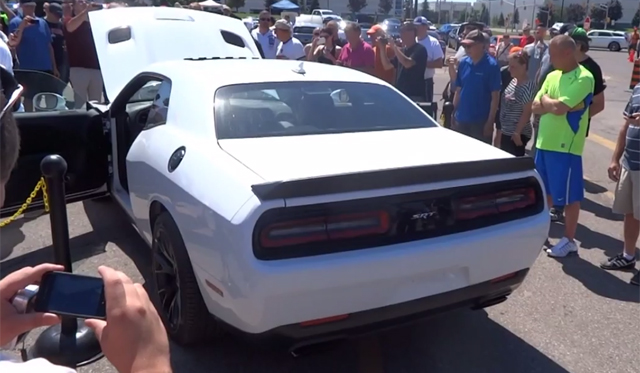 Prior to customer deliveries of the epic 2015 Dodge Challenger SRT Hellcat commencing, Dodge has been very happy to promote its most powerful and inevitably fastest Challenger variant ever. We've already heard the insane supercharged muscle car revving and the following clip gives us another epic look and listen to the screaming and utterly ferocious engine!
[youtube]https://www.youtube.com/watch?v=-Eb7CX0uYfg[/youtube]
In case you didn't know, the 2015 Dodge Challenger SRT Hellcat features an all-new supercharged 6.2-liter HEMI V8 engine, the most powerful that Chrysler Group has ever produced.
Design changes include a new front fascia and all-new vertical-split grille. It gets a larger, power-bulge aluminium hood with a dedicated "cold-air" intake much like the original Viper coupe. The hood comes standard in body color and is available in a Satin Black finish. The quad projector headlamps are new too as is the larger front splitter and supercharger fender badges and notably, one of the headlights also serves as an air intake. The rear gets a split tail-lamp design and new rear fascia. The diffuser is a new design, as is the taller rear spoiler.
Final specifications for the car have yet to be revealed, but we do know it produces in excess of 600 hp and likely more than the 640 hp delivered by the Viper!