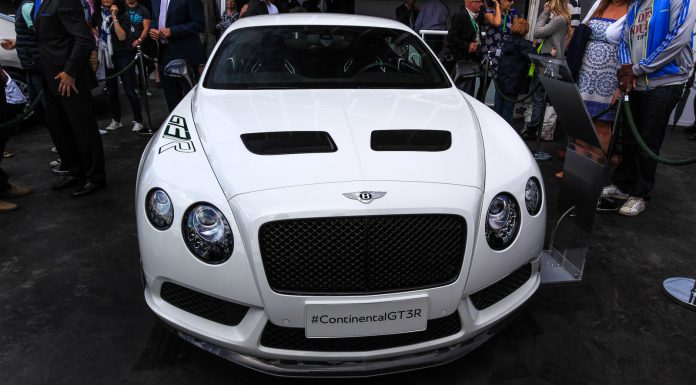 At Goodwood Festival of Speed 2014 this morning, we caught up with Bentley and their fantastic Bentley Continental GT3R. This is the first time that Bentley have chosen to reveal a new model at the Festival of Speed. Unfortunately it wasn't running up the hill during the day as there is just one copy at the moment, however, the very first example was on display at the Bentley Boutique.
To guide us round the car, we had Bentley CEO Wolfgang Durheimer (who also holds the role of General Representative within Volkswagen Group), Chief Engineer Rolf Frech and Board Member for Sales, Kevin Rose. All three share a passion embodied by the phrase "Bentley Boys", a phrase applied to a wealthy group of 1920's racers who often performed heroic feats to win races. Durheimer likens that spirit to that which can be found at the factory nowadays.
Most who follow motorsport will know that Bentley recently marked its return to the GT3 racing and the Blancpain Series with a win at Silverstone over British rivals McLaren. The Bentley Continental GT3R applies the principles and passion behind the race car to the platform of a road car. Whilst very few of the parts actually mirror those of the racer, the general design is heavily inspired.
Bentley have opted to use the same 4.0-litre twin-turbo V8 for the GT3-R. It comes with 580 hp and 700 Nm of torque, with the 100 kg weight loss and shorter gearing, the GT3-R is capable of reaching 60 mph from a standstill in just 3.6 seconds (0-100 km/h in 3.8 secs). Upgrades have also been applied to the power train with torque vectoring now available together with a modified Electronic Stability Control (ESC) and a new chassis tune.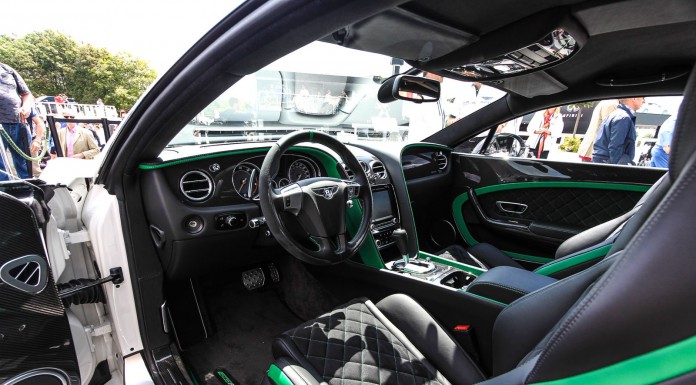 The Bentley Continental GT3-R gets a new front splitter, a new fixed rear wing fitted to the boot lid and bonnet vents to improve the cooling. All are finished in gloss carbon fibre together with Glacier White paintwork and a two-tone green side graphic. Headlamp bezels, matrix grille, window surrounds and bumper strips are all finished in stylish gloss black.