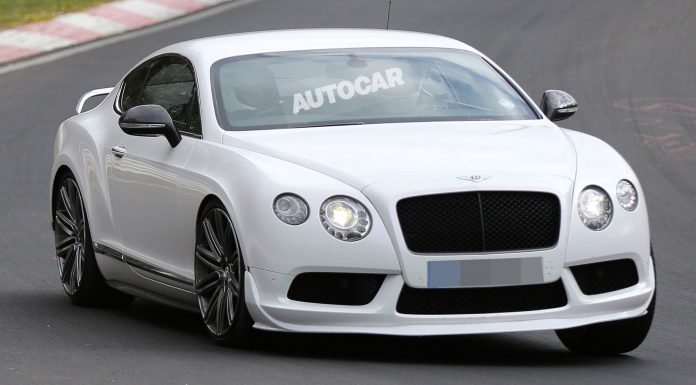 Ever since it was first spotted at the Nurburgring, a lot of mystery has surrounded the above Bentley Continental GT prototype. Based purely on the fact that the car features a host of new aerodynamic aids, it can be reasonably assumed it's a hardcore, track-oriented variant of the Continental.
Now the latest word is that it is a road-going variant of the Bentley Continental GT3 race car and that it will debut at the upcoming Goodwood Festival of Speed 2014. The launch of such a model at Goodwood would come at an excellent time for Bentley considering the Continental GT3 recently took its maiden GT racing victory.
Tipping the scales at a hefty 2295 kg, the V8-powered Continental GT is far from a sporty car through the corners. As a result, it is believed that Bentley's number one priority is to save weight and one measure to do so will be the ditching of the car's regular all-wheel drive system in favour of a rear-wheel drive setup.
Elsewhere, the road-going Bentley Continental GT3 will feature a host of lightweight, carbon fibre body panels. The new Continental GT3 will also likely be powered by the firm's mighty V8 engine but will be heavily tuned to now deliver 700 hp.
The car will reportedly be produced in limited numbers.
[Via Autocar]