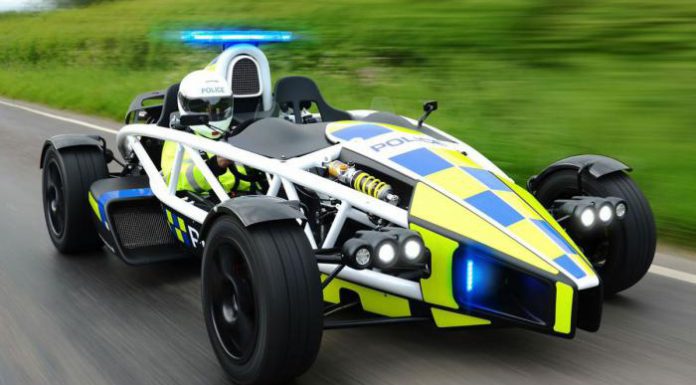 The team at Ariel has just unveiled a very special Atom police car for the Avon and Somerset Constabulary (police department) as well as the ongoing Safer Rider campaign.
However, this Ariel Atom is far from a standard one. Based around the Atom 3.5R recently revealed and now available to customers, it delivers a potent 350 hp. Consequently, the car, dubbed the Ariel Atom PL will hit 100 km/h in just 2.6 seconds – more than fast enough to catch up to criminals in the blink of an eye.
Of course, incredible speed isn't the only thing needed to create a police-spec Ariel Atom. Consequently, the car features a bright, fluro yellow and blue livery along with a light bar mounted on top of the large air intake helping to fuel the engine.
While speaking about the Ariel Atom PL and the Safer Rider campaign designed to promote awareness motorcyclists about road safety, company director Simon Saunders said, "Our business is about going fast, very fast, but there is a time and a place. The Atom is designed to be driven to a race track, where you can drive to your limits in safety and in a professional environment designed for the purpose. The road really isn't the place to explore your or your vehicle's limits.
"We're just about to launch an all new Ariel motorcycle and we want our bikes and customers to be as safe as they possibly can be as well, so this message is important to us. There's always one certain loser in a motorcycle collision and that's the motorcyclist," he concluded.