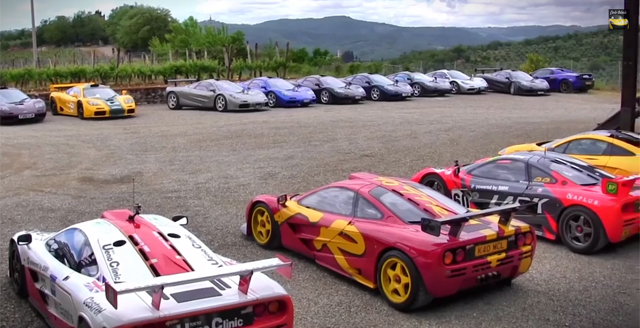 With just 106 units made, the McLaren F1 is one of the rarest supercars ever manufactured. However, it isn't its rarity that it is remembered for. Nope, it is remembered for its absolutely breathtaking performance capabilities and insane 240 mph top speed!
[youtube]https://www.youtube.com/watch?v=NpfXpI7eI9w#t=249[/youtube]
Recently the McLaren F1 Owners Club held an epic tour in Tuscany, Italy and in total, 12 'regular' McLaren F1s competed alongside six even rare McLaren F1 GTRs. What's more, there were two P1s and a handful of 12Cs and 650Ss used as support cars. Rowan Atkinson's famous dark red F1 also took part in the tour.
Unfortunately, the event was marred by the crash of McLaren F1 chassis number 72. That F1 was very unique as it is part of the Project 8 duo alongside a similarly finished white and red McLaren 12C.