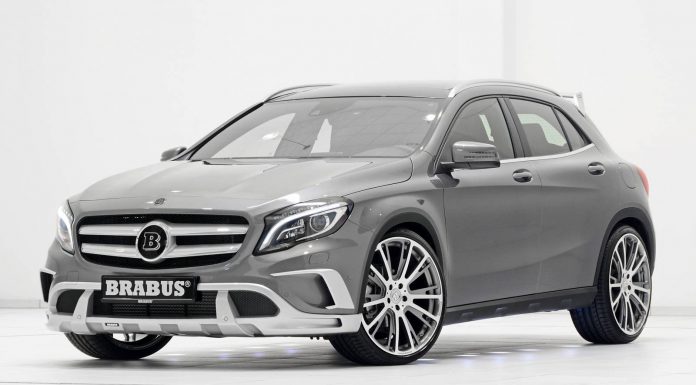 The Brabus Mercedes-Benz GLA has now been officially unveiled. As the GLA is fundamentally the same as the A and CLA models, the performance and aerodynamic packages were fairly routine adjustments. The Brabus package does however give the soft-roader Mercedes-Benz a different look to the serial model!
Brabus have developed a package that beefs up the off-roading element of the mini-SUV. The Brabus Mercedes-Benz GLA gets three different versions, Standard, Style and Urban specifications. The high-grade PUR parts include a front bumper, a front spoiler and side air inlets. The sides get an LED under lighting system whereas the rear gets a spoiler and a Brabus rear bumper together with a stainless steel quad exhaust.
Power updates range from the Brabus ECO PowerXtra D3 package for the common-rail turbodiesel engine of the Mercedes GLA 220 CDI to the PowerXtra CGI B45 tuning kit for the GLA 45 AMG. The Brabus ECO PowerXtra D3 boosts power up to 210 hp and 410 Nm of torque for a 0-100 km/h time of 8.0 seconds and a top speed of 220 km/h. The PowerXtra CGI B45 tuning kit hits 400 hp and 500 Nm of torque for a 0-100 km/h time of 4.4 seconds and a top speed of 270 km/h.
A part of the package are the Brabus wheels. There are a number of options ranging from 18 to 21 inches in diameter. The largest are the forged 9Jx21 "Platinum Edition" wheels. Customers also have a choice of, Monoblock F and R wheels. Tyres are either Continental, Pirelli or YOKOHAMA up to size 255/30 R 21.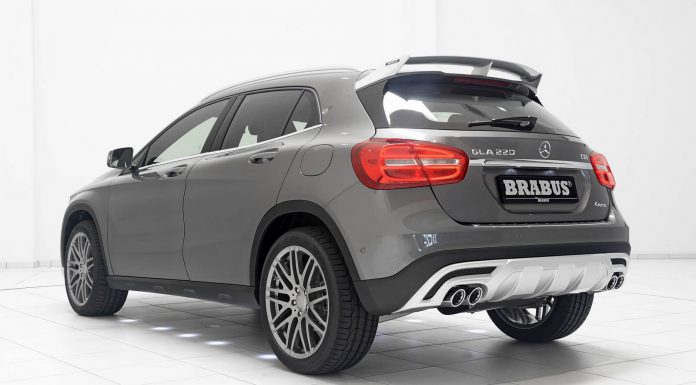 Small updates to the interior include Bi-color stainless-steel scuff plates with Brabus logo, aluminum pedals, door-lock pins and aluminum shift paddles. Alternatively, Brabus can also offer full interior customisation as part of their upholstery shop!
The Brabus Mercedes-Benz GLA sits 30 millimetres lower than the standard car. A set of sport springs also offer a 25 millimetre lower ride height. The car also benefits from the Brabus warranty which covers the upgrades for three years, up to 100,000 kilometers/62,000 miles.