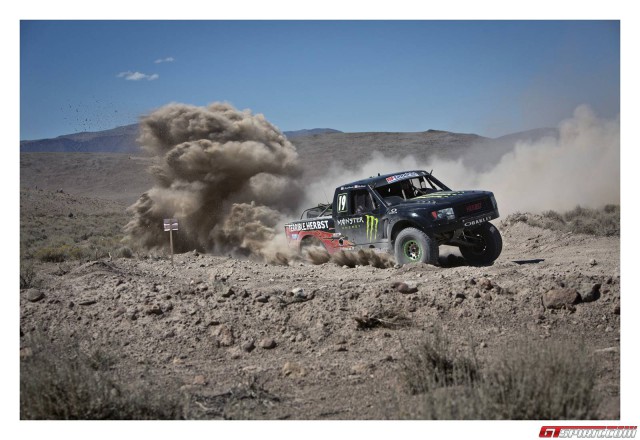 Huntington Beach is a city in South California mainly famous for its surfing culture. It's a mecca of this beautiful sport. Wherever you look, something reminds you of it – surfer bars, shops and most of all Edmund Shumpert's Bronze Surf Sculpture commemorating the coast's past. You don't see people dressed in a suit and tie rushing for their lunch here. In Huntington Beach, everything seems to be more relaxed. It is definitely a place where it's difficult to think about work. Yet, in this surf and leisure-oriented city, one of the most famous American off-road sport teams has its HQ – Terrible Herbst Motorsports. Located just next door to McDonnell Douglas facilities is every grease monkey's dream garage! A massive place with 12 fully loaded working stations, storages, engineering/metal shop, Terrible Herbst reconsiders the meaning for private motorsport team facility.
Founded by the Herbst family, Terrible Herbst Motorsports is one of the most successful and popular teams in off-road racing today. This oil family is also a group of really dedicated racing aficionados willing to extend their true passion into professional racing. The team is run by Mike Smith. He was building and designing the first cars for the Herbst family way back in the late '70s, which started a great partnership and formed a strong bond after such a long time working together.
After entering the Terrible Herbs Motorsports shop, you quickly realize that this is something you won't see anywhere else in the off-road world. It's modern, fancy and gigantic for privateer's standards. It is painted in team colors, the walls matching the floor tiles and shop equipment. It seems like a big corporation rather than a family business. The place is full of spare parts, body panels and equipment necessary for off-road endurance, which makes for a very busy atmosphere. But what really hit me over the head was the two stripped down Terrible Herbst trophy trucks getting ready for the next race!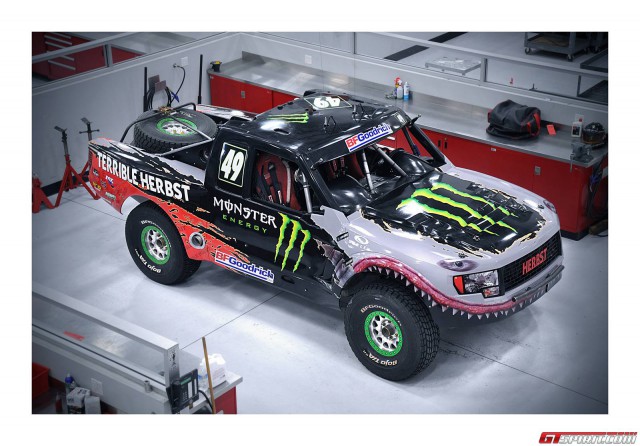 The nerve center of the whole shop is situated in the first row of stations. Of course, there are other great cars around as well like class 1 buggies and pre- runner trucks. Yet, the trophy trucks are what it's all about. They represent the top class of off-road racing – at least that's the status it has on the North American Continent. There are no limitations in this class, which makes those vehicles built from the ground-up entirely unique! They also make a much different impression in person. First of all, they are bigger … much bigger. They are usually photographed during the race on some solitary, deserted road in the middle of nowhere, so the perspective makes them look much smaller. Secondly, they are much more complex contraptions then you may think. Once taken apart, you can clearly see how complicated those monsters are! Underneath the fiberglass body shell, miles of wiring and tubing wraps around truck's frame. And the frame itself is a real jewel! Designed in house by Mike Smith, it is made out of Chromoly Steel and it's solid as a rock! Sitting there in the welding shop reminds me of a piece of art ….a rough one though ! Building such a car ain't easy and it's very time consuming – a team from Huntington Beach needs from 6 to 9 months to build one depending on the specifications. Because it's not based on any standard vehicle, a lot of special parts have to be made from scratch like elements of suspension, gearbox, and safety equipment to name just a few. An 850 HP Patton engine along with Culhane 3 speed transmission are responsible for making this 6500 Lbs car fly like a bullet. Obviously, such a unique sports car requires a special type of wheels too. A a light weight solution is something definitely you won't find here! Each beadlock wheel and tire weighs 140 Lbs and it's ready to take on the hardest terrain. Just imagine changing this wheel on the rally stage! But the driver is not to be bothered with that. He has to stay focused in the car and on top of that, it takes too much time to unstrap the seat belt harness. All the dirty work must be done by the co-pilot.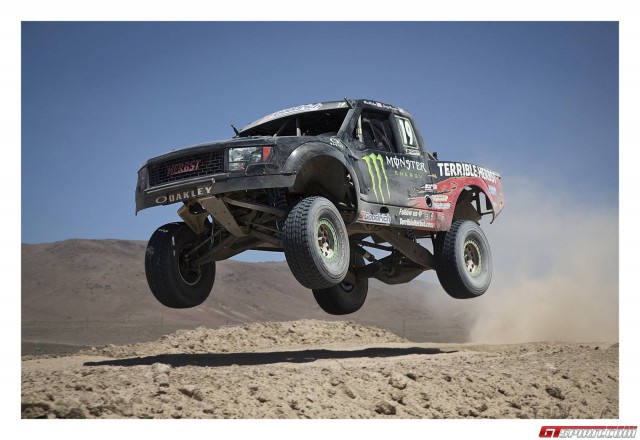 Apart from the owners of the Terrible Herbst team (Troy and Tim Herbst), there are two contract racing drivers: Larry Roeseler and Ryan Arciero. Annually, they participate in 7 racing events including the famous Baja 1000. All of those races are very challenging when it comes to both the drivers' and vehicle's strength. There is a reason why trophy trucks don't have a windshield, for example. The amount of dust and little rocks hitting the car would scratch and break it, making it almost impossible to see. Also, the car needs the airflow through the cockpit to reach the coolers right behind the driver and co-driver. The only things that keep their heads safe are their helmets equipped with air pump distributors. In order to keep them comfortable and safe, they need the clean filtered air that comes from the Parker air pump located behind the drivers.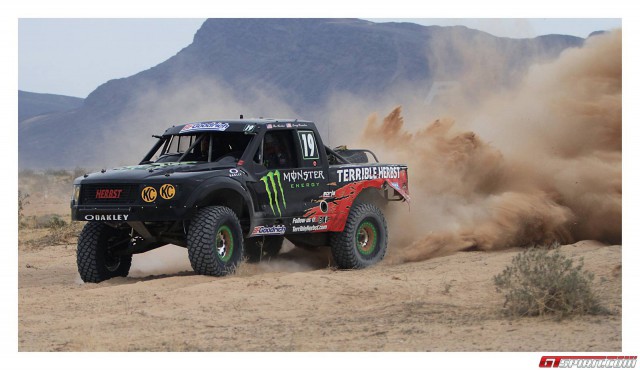 If you have a proper budget and the guts to race trophy trucks you can commission Terrible Herbst to build the car for you – ready to race! Obviously, it doesn't come cheap. Depending on the specifications, get ready to spend between $450,000-750, 000. For this amount of money I'm sure you can get yourself a lot of other great racing or super cars but I bet that trophy truck will be the rarest – it is such shame that it's not street legal, though!
The entire Terrible Herbst facility reminds me a little bit of the trophy truck philosophy. It's unique, solid and driven by passion. Under one roof, the Herbst family has gathered racing aficionados, specialist and people all dedicated to their work. I think it's almost impossible to find a similar trophy truck shop in this very niche sport.