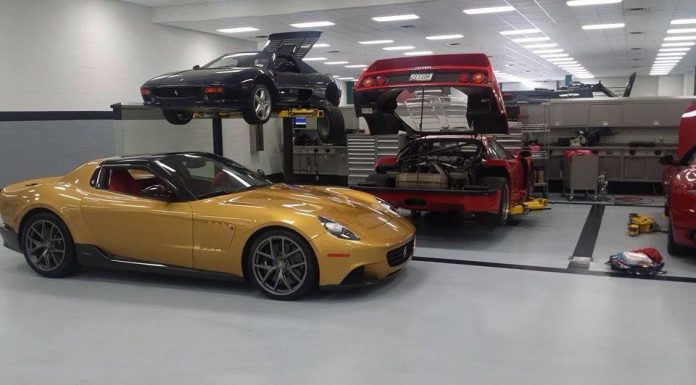 It's not every day you see a special car like a Ferrari, let alone a creation out of Ferrari's Special Project Program. However that's exactly what photographer Luke Frampton spotted when he walked into a supercars workshop in Scottsdale, Arizona.
We can only imagine the feeling of unexpectedly coming across a one-off car like the Ferrari P450 Superfast Aperta. Commissioned by Edward Walson in 2008, the son and heir to the inventor of cable TV, the Superfast Aperta is based off of the Ferrari 599 GTB Fiorano. It pulls design inspiration from the gold-painted Carrozzeria Fantuzzi-designed Ferrari 330LM, a car which Walson lusted over as a child.
The Superfast Aperta had a body designed by Pininfarina and was worked on over a period of 14 months before being revealed to the public on December 11, 2009. Using strengthening techniques and carbon-fiber, the car's chassis was stiffened for the conversion to a convertible body style. It shares similar features with the 599 it is based on, with a 612 horsepower 6.0-liter V12 engine sending power to the rear wheels through Ferrari's F1 transmission.