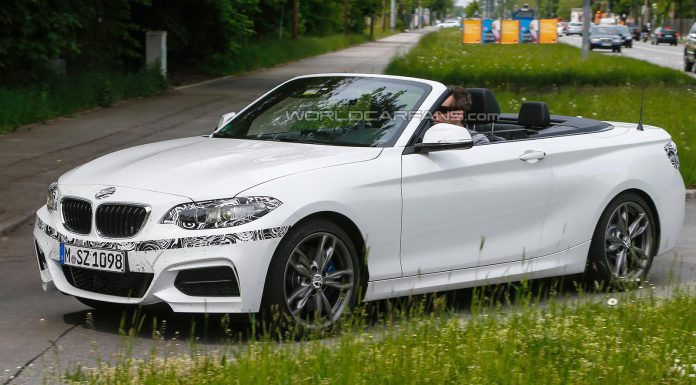 BMW is hard at work finalising the development of the 2014 BMW 2-Series Convertible and now a prototype has been spied testing with essentially no camouflage.
This particular prototype appears to be the M235i Cabriolet with it featuring similar bumpers and side skirts to the regular M235i Coupe. Photographed with its roof down, we can see that the 2-Series Cabriolet features a similar folding roof design to the 4-Series Convertible and also features similar lines albeit on a slightly smaller scale. This particular prototype features the same aggressive bumpers and panels as the M235i Coupe albeit without the fixed roof.
The car snapped here also features sporty wheels, blue brake calipers as well as dual exhaust pipes. If the launch of the 2-Series Coupe from last year is anything to go by, we expect to see the BMW 2-Series Cabriolet unveiled in a host of specifications including the range-topping M235i Cabriolet.
Other versions are likely to include the 228i Cabriolet, 220i and 220d. Currently, there is word that BMW is developing an M2 coupe, likely to deliver around 380 hp. The engine delivering all of this power will be an uprated variant of the 3.0-liter, twin-turbocharged inline-six cylinder engine found in the M235i which it iself produces an impressive 322 hp.
Considering that BMW launched an M4 Convertible just a few months after the M4 Coupe, we expect the same story for a possible M2 Cabriolet. However, with the M2 Coupe not expected to launch until 2016, we still have quite a while to wait.
[Via World Car Fans]