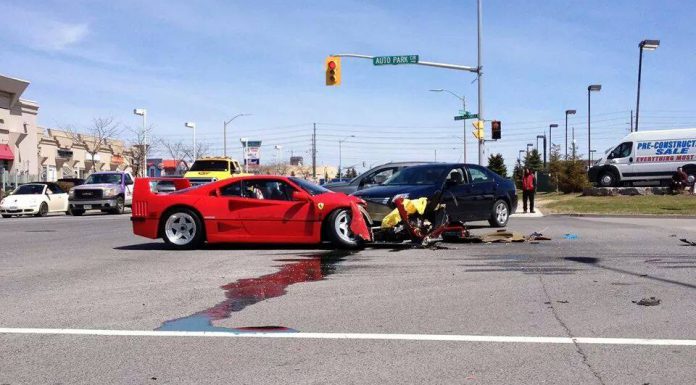 For car enthusiasts, it always stings a little bit when we see that an exotic car has been crashed or totaled. It isn't so bad when the vehicle is newer, as the car is usually widely available and replacement parts are easier to come by. However when it is a relatively rare car which has been out of production for a long time, crashing it can be a true tragedy. That is what makes the photos from this Ferrari F40 crash which happened in Ontario, Canada today particularly hard to look at.
According to the photographer, who heard the crash happen, the Dodge Dart pictured was driving through the intersection while the F40 was making a left-hand turn. The two vehicles front end's appear to have collided, ripping the front bumper and hood off of the Ferrari and damaging the suspension components. It looks to have suffered extensive damage although the most crucial pieces, such as the engine and other mechanical parts, have been left fully intact. For this reason, this F40 might be repairable if the owner chooses to fix it.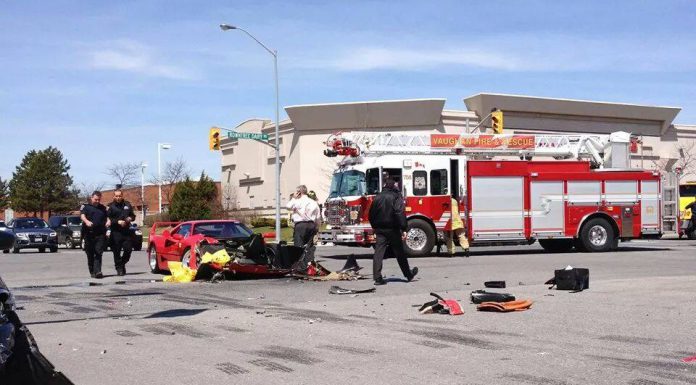 Most importantly, no one was seriously injured in the accident.