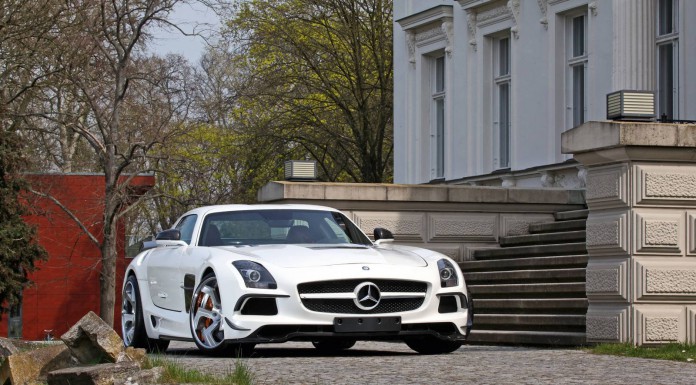 Imagine this situation if you will. You've done well for yourself. So well in fact that you now own a Mercedes-Benz SLS AMG, a dream you've worked extremely hard to fulfil. Then Mercedes drops the SLS AMG Black Series. Your dream is shattered, you simply have to own that car!
Step in SGA Aerodynamics. SGA will that your SLS AMG, apply some work to the body panels and, before you know it, you can have the looks of the Mercedes-Benz SLS AMG "Black Series" without the expense.
It features all the visual styling cues of the Mercedes-Benz SLS AMG Black Series, the front bumper, the side air ducts, the hood and the rear spoiler. The only way you would tell the difference is the MAE Design Forged Rotor rims which fill the wider wheel arches.
The MAE Design wheel is a three-part construction with with chromium-plated beddings. The front wheel measures 10.5 x 20 inches with outer rims that are 3.5 inches wide and 265/30 tyres. The rear measures 12 x 21 inches with a 4 inch outer rim and tires of 325/25.