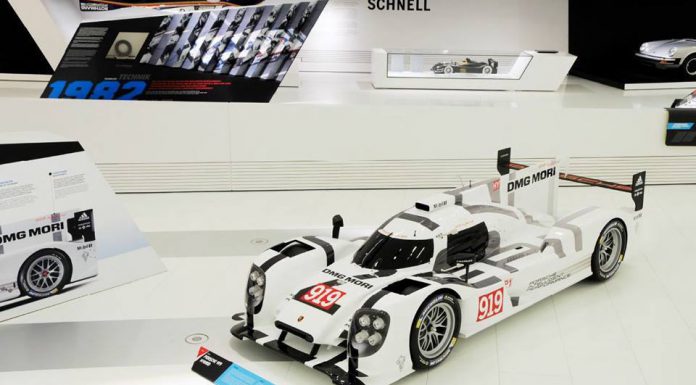 The brand new Porsche 919 Hybrid has gone on display at the Porsche Museum in Stuttgart-Zuffenhausen. The 919 Hybrid is part of a comprehensive special exhibition held from March 26 to July 13, 2014 named 24 Hours for Eternity. The collection of cars takes an eclectic look at Porsche's achievements in the classic French endurance race, 24 Hours of Le Mans.
The exhibition is mounted to a racing track background where the focus is on the new Porsche 919 Spyder. Porsche's Le Mans history starts in 1951. The display includes more than 20 different racing cars which tell the Porsche Le Mans story. Alongside the Porsche 919 Hybrid, cars such as the 1969 Porsche 908/2 Spyder long tail, the 1971 Porsche 911 T/R, the 1974 Porsche 911 3.0 RSR as well as the 1981 Porsche 936/81 Spyder make their debut at the Porsche museum.
The Porsche 936 of 1976, 1977 and 1981 is also on display. It is the fastest vehicle on display having clocked 360 km/h on the Mulsanne straight. It bought Porsche their sixth overall victory in 1981 at the hands of Jacky Ickx and Derek Bell, leaden by 14 laps.
The cars also include the 1979 Porsche 935, the Porsche 911 GT2 Le Mans, the 1994 Porsche 962 GT Dauer Le Mans as well as the WSC LMP1 of 1998. The cars are joined by various historical and technological small exhibit pieces such as helmets, a brake disc from the Porsche 956 and the diary of Ferry Porsche.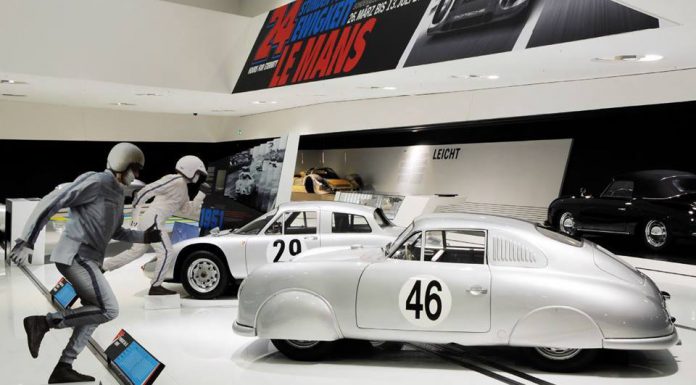 From 14 June at 9 am to 15 June at 6 pm, the Porsche museum will remain open for visitors and Porsche fans to watch the 24 Hours of Le Mans 2014 endurance race. Entrance is free of charge on this racing weekend. Normally, entry is 8 euros!