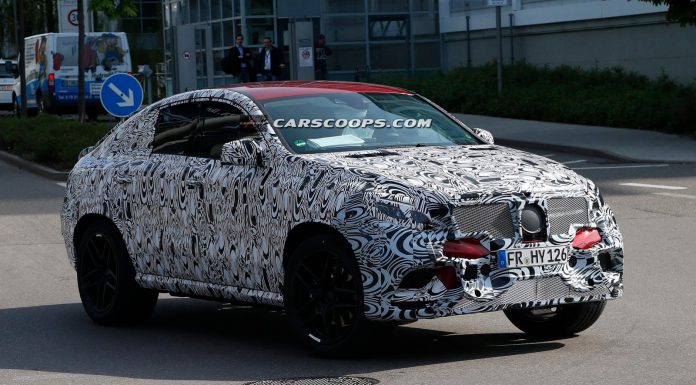 Just after revealing the Mercedes-Benz Concept Coupe SUV at the Beijing Motor Show 2014, a new prototype of the upcoming MLC has been spied testing wearing the same body as the concept. Consequently, this confirms suspicions that the Concept Coupe SUV was indeed previewing the shape and design of the MLC.
As the above image shows, the prototype is wearing heavy camouflage across pretty much every body panel. As a result, it is hard to determine just what visual changes will be included in its final design to differentiate it from the concept and make it more viable for everyday road use.
However, as is typically the case, the production-spec Mercedes-Benz MLC will feature redesigned bumpers both front and rear as well as larger wing mirrors. It is also likely that slightly tweaked headlights and taillights will feature.
The production-spec Mercedes-Benz MLC will rival the BMW X6 and is expected to be available with a host of different engines. For starters, both petrol and diesel V6 engines are expected alongside a very economical hybrid. At the top of the range, we can expect to see a V8 powered MLC 63 AMG and an MLC 65 AMG powered by a V12 engine!
[Via Carscoops]