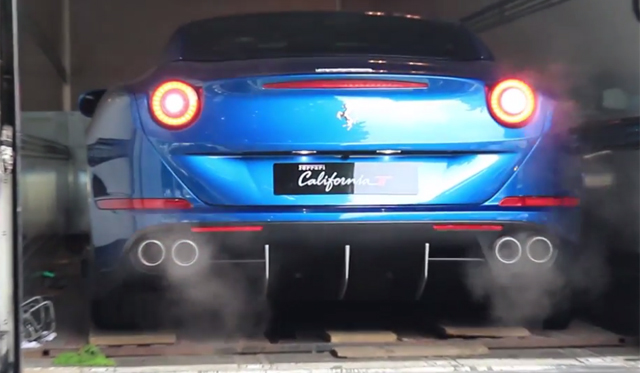 Since being revealed at the Geneva Motor Show a month ago, Ferrari has begun rolling out its latest supercar for private viewings and now, a very exclusive public preview in Paris for the start of the Tour Auto. In total, a stunning blue example along with a silver unit were rolled off their respective transport trucks and on the streets, look even better than they did at Ferrari's Geneva booth!
[youtube]https://www.youtube.com/watch?v=JMVdL6uoaOU[/youtube]
In case you needed reminding, the new California T comes fitted with a twin-turbocharged 3.8-liter V8 engine, with the 'T' in the name standing for 'Turbo'. This engine is closely related to the same unit available on the latest Maserati Quattroporte. However, for the Ferrari California T it has received a significant power boost and now delivers an impressive 552 hp at 7,500 rpm and a mega 755 Nm of torque at a relatively low 4,750 rpm. As a result, the new California T can launch from a standstill to 100 km/h in a mere 3.6 seconds. The car then continues to accelerate to its top speed of 316 km/h.
The new Ferrari California T measures 4,570 mm in length, is 1,910 mm wide and just 1,322 mm high. All up, the new Ferrari GT car tips the scales at 1,625 kg and has a weight distribution of 47 per cent at the back and 53 per cent at the front. Considering a massive V8 is up front, this weight distribution is quite impressive indeed. Despite its fairly heavy weight and massive power, the 2015 Ferrari California T can sip a mere 10.5 litres of fuel per 100 km.