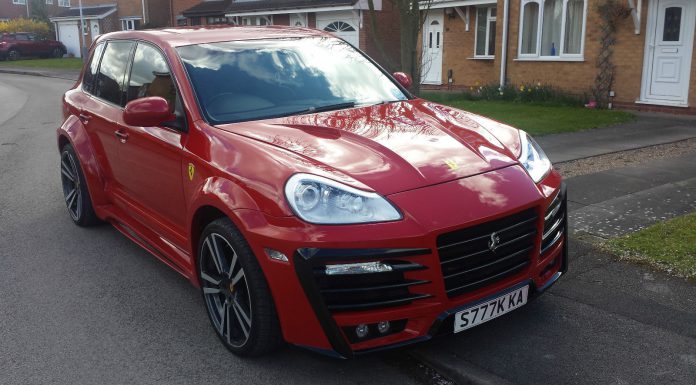 eBay throws up some fantastic overkill candidates. This Porsche Cayenne S is prime example. It is for sale in the United Kingdom at the moment for the lofty price of £19,999. We simply had to share it with you.
The seller explains: "I know your [sic] wondering why is their [sic] a Ferrari badges on a Porsche car the thing is people dont [sic] know what car it is and fall for it thinking it is Ferrari along with the noise which puts the 458 Italia to shame."
Any casual onlooker would instantly realise that this wasn't a Ferrari. It is of course a Porsche Cayenne S with (what we are told) is a bespoke bodykit. Reassuringly, the owner tells us that the badges can be removed and switched with more traditional Porsche badging.
The motor is the normal 4.5 litre V8 powerplant, yet the advert reveals that it has had an LPG conversion. If the bodykit, the colour and the badging do not set alarm bells ringing, the LPG conversion certainly will.
The interior looks to remain largely untouched and we are told that the car is a 2003 model with 66,000 miles. The seller says "first to see will buy", we suspect it will remain unsold… Take a look at the advert here.