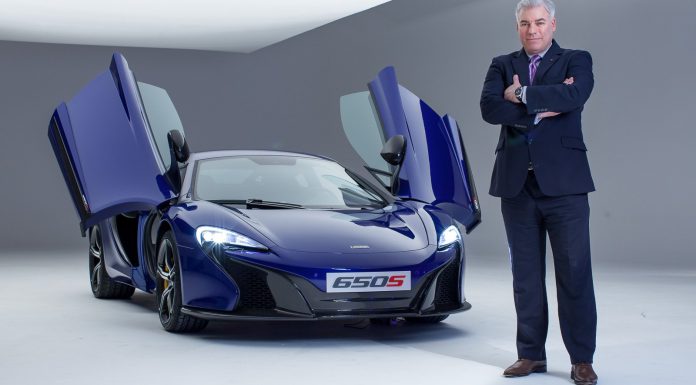 Frank Stephenson is kind of a big deal – at least that's what it should say on the mugs in the McLaren canteen. Having joined McLaren Automotive from Fiat Group in 2008, Frank has been creating the design DNA for the future of McLaren. But before we delve into the new 650S, we should first dip into his rich past. If you haven't heard of the name, you will have heard of some of the cars he's designed.
Frank began his career in 1986 with Ford Motor Company in Cologne, Germany. His main contribution during his tenure there was his design work on the Ford Escort RS Cosworth. In 1991, he joined BMW Group in Munich, where he was responsible for the BMW X5 and the New MINI. His next move came in 2002 when he joined Ferrari and Maserati in Maranello and Modena, Italy, as their first-ever Design Director. There, he was responsible for the designs of the Ferrari FXX Super Enzo, Ferrari F430, Maserati MC12 Stradale, Maserati MC12 Competizione and Maserati GranSport.
In 2006, he was placed as Design Director for Fiat, Lancia, Alfa Romeo and Light Commercial Vehicles where he led the design of cars such as the Fiat 500, Fiat Bravo and Alfa Romeo Mito. Frank joined McLaren Automotive in 2008 as Design Director and has since led the designs of the 12C and the McLaren P1.
At the time Frank joined McLaren, the MP4-12C, as it was then known, was well into the later stages of development, but that didn't stop him applying a few design tweaks – most notably the headlights and front bumper received the Frank touch.
That's enough about the past, though – we caught up on the McLaren stand in Geneva, where Frank talked us round the new McLaren 650S.
GTspirit: Hi Frank, thanks for taking time out to talk to us. Let's work our way around the new 650S – where does the design process start for you?
Frank Stephenson: "I get targets, that's the difference between a normal design studio and what we do at McLaren. We work very closely with the engineers from the beginning, whereas other studios bring in the engineers after the initial design. The problem with that is it lets you spin the wheels for too long. We can't lose time in our schedule, as the pace at McLaren is crazy. We receive engineering input right from the beginning: a day after you've worked on designs, you can have feedback from the aero guys and engineering telling you if it's going to work or not. They won't tell you exactly what's wrong with it, but they will tell you what direction is right and wrong. We already knew what was working on the P1; most of the influence of what the 650S looks like is not because we wanted it to look like the P1, but simply because it works. When we started with the 12C, the public said it looked a bit generic. I completely disagree with that: when I see one on the road, it still grabs me, but some people felt it was lacking emotion.
"The first step with the 650S was to address that issue. We think the P1 looks very good as a direction for a family feel and those design attributes can start to become part of the McLaren design language, so we applied a few of those elements from the P1. But if you put the two together, it's only really the headlight shapes that look similar. People say 'oh gosh, how unimaginative, logo headlights'. The fact is, we are the only manufacturer who can do it – nobody else can. It doesn't mean that this light style is the whole future of McLaren, though.
GTS: You mention the McLaren design language. I guess it's good to build a family feel?
FS: "Yes, you need it at the beginning a little bit, but you don't want to get locked in. With a lot of companies, it's the failure of them: they get locked in too early and become too predictable. You don't get that wow factor and it's a negative. Each new McLaren that comes out will have something you haven't seen before. So for P1, obviously it has that shrink-wrapped design, it's more about taking away than adding, not about beauty, but about it looking lightweight. If you can suck the surfaces to the hard points, as we call them, you get a whole new look, and if you can massage it in a certain way you can make it look beautiful at the same time. That really works for us and nobody has ever gone down that route. Slowly, these things will become McLaren design features, which is the holy grail – you always want to find something that hasn't been done before. Too many people say 'oh, that car looks like that car', or 'you got that from that company'. It's not an easy job, but it's what we are there to do."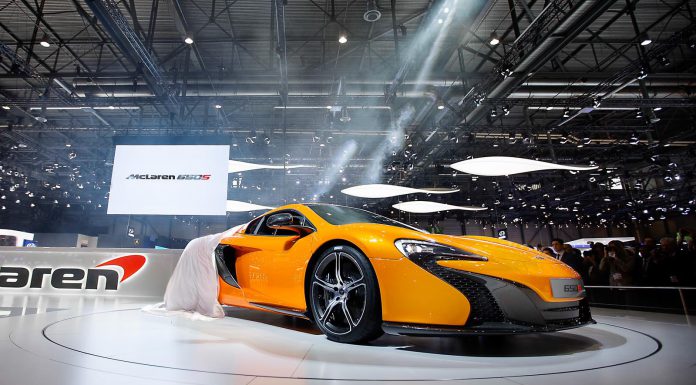 GTS: The front end has obvious P1 design cues, but it's more about function. For example, the front end creates lower pressure, right?
FS: "The splitter extends a lot further out. The process is we design, tweak, design, tweak, tweak for design, then tweak to hit the targets because it doesn't give the numbers you want. In this case, aero set a target of 40 percent at 150mph.
Dave Eden: "The splitter is much more pronounced on the front and the door blades that run up the door increase downforce and tidy up the air as it comes off the wheels, meaning airflow down to the back of the car is much cleaner. We're just tweaking little bits here and there."
Frank Stephenson: "The 12C aerodynamically was designed with that in mind, so whatever you do now isn't going to be a radical change: it's an improvement."
GTS: From a front 3/4 angle the car looks amazing and it feels much lower and wider now, tell me about the side intakes?
Frank Stephenson: Well we had to do that, there was no option, we needed to get more air into the engine. So with them flared out we can get more air volume into the car, grabbing rather than slicing the air, rather than flipping it like we did on the 12C. The 12C wasn't designed so much as it was computer generated, the air sticks to it and didn't want to turn. With the 650S we just ram it in just like a ram air system. We also changed the wheels, the lightweight wheels are standard instead of optional, wheels are very important, I think if you get the wheels right the car looks right, if you get it wrong it screws the car up.
GTS: So, the rear end, how come it didn't change?
FS: "It's not like we didn't think about it! You can change for the sake of it, but there's no sense in this – the rear end to me is timeless. We have the new, more active rear brake, learning from the aero flaps on the P1 helped us develop the rear wing on 650S and the diffuser was tweaked slightly on the corners where it meets the bumper. The rear bumper is now more P1ish – we added more black and carbon to lighten the look of the rear."
DE: "We looked at customers' feedback and gave the rear bumper the look of the GT3. At McLaren Special Operations, we did a HS edition and the rear bumper was very similar to the GT3. We had a lot of customers who really liked the look of it. Listening to customer feedback helped shape that."
GTS: Was there ever any thought of changing the rear lights?
FS: "There are all kinds of ways of going towards what we did with P1, but it's very expensive tech." [Here, I show Frank a photoshopped version of the rear lights I've created]. "Ah, I see what you've done. You could have eliminated the three bars, which are non-functional, helping to create more outlet for the hot air. That's pretty good, actually." [I'm smiling]. "We didn't spend any money on the rear end apart from the bumper change."
DE: "It's also heat management: changing one thing at the front of the car filters through. It may seem straightforward, but as soon as you change one thing, it's research and development expense. The rear, people particularly like it, it works and it's very efficient."
FS: "The cool thing about lights right now is we had halogen, xenon, LED, then OLED and now BMW are pushing laser headlights. The performance is incredible and they're intelligent. You can see 600m ahead, depending on your eyesight of course. It can split in two, there are all kinds of different options. I can't wait to get into that."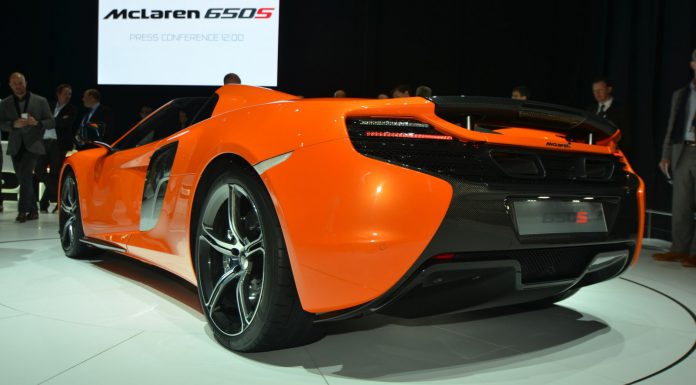 GTS: On the rear and overall styling of the 650S, was there a train of thought that you didn't want to upset P1 owners?
FS: "Exactly. I didn't want to say that. You get a lot of things you want to keep for P1, because it is such a special car. Not that owners are going to complain too much, as it's a very special car in the first place, but you don't want to step on their toes."
GTS: Until I saw the Bruce McLaren video, my opinion of McLaren was that it was clean and clinical. Is there passion at McLaren?
FS: "That film affects all of us. They say Ferrari is as emotional as it comes, but I find more enthusiastic passion at McLaren than I ever felt at Ferrari. Ferrari is superficial."

DE: "Ferrari make road cars and have been marketing themselves for 50 to 60 years. McLaren haven't. We don't let people into the building, it's incredibly secretive. Only since we opened the doors in 2010 do we now get people telling stories. The only the emotion before was F1, which in itself is a cold world. It's nice to speak about the brand, you get into it. McLaren has an incredible history. It's interesting: there are a lot of similarities between Ferrari and McLaren. But Enzo Ferrari openly said he builds road cars to fund racing. Bruce McLaren went racing and he wanted to use that experience to build road cars."
FS: "There's no mix of people at Ferrari – racing and road cars are in separate buildings, split by a road. At McLaren, it's fluid, transparent, there's a lot of crossover, it's a normal thing to talk to F1 guys. That's why we built production where it is, so the production guys have to come over for lunch and they see the trophies. It's definitely a place you walk in and say 'I want to work here'. It's a family: the drivers are in the gym and eating lunch with everyone else. It's mind-blowing, it;s great."
GTS: So Frank, you're obviously very creative, tell us about your desk?
FS: "Ha, I get told off for my desk. Everything is laid out across my desk, you never know what you're going to find: chocolate cake, model cars, magazines – anything.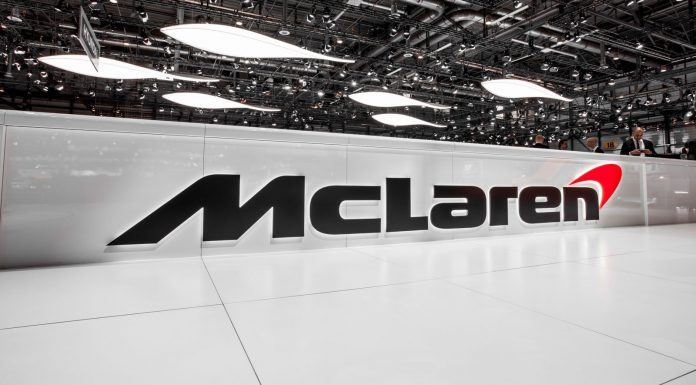 GTS: Is part of what you enjoy about the design challenge working to constraints?
FS: "It's easy to design dramatic, flamboyant cars – that's the easiest thing in the world. The hardest thing is to stay restrained and still make something unique. Make it look like it's designed for performance. You can almost fall into a trap of making it look not very high-performance, like an iPhone, you look at it and just think 'there's nothing on this thing'.
GTS: Away from cars, where do you take your inspiration from?
FS: "Biomimicry. Since I was a kid, I've been in love with animals. I studied biology and I was fascinated by evolution. I started to think, why aren't cars designed like that? Animals are absolutely the best at what they do, built for purpose. When I came to McLaren, it was absolutely the way to go, it makes sense. It's amazing, in future you'll be able to change the colour of your car. It's very easy technology, meaning you can switch the colour of a car like a chameleon. Active aero is another thing: charged materials that can change shape, using positive and negative current. We can use it in car design, same as in nature. It's all out there, it's not new. You get designers at fashion shows and furniture shows, it's very trendy, but it's here one day, gone the next. A horse 50 years ago looked as good as it did then as it does today. It's all about making the car work, then beautifying it. It may sound like I'm giving up on the design side of things, but it absolutely makes sense, there's no other company out there that designs first then makes it look good. Everything will go very iPod, very simplified, less is more, you don't need buttons on a steering wheel. A Ferrari steering wheel is a bit of theatre, entertaining, but doesn't add to the pureness of driving. There's just minimal info you need to drive, so it can confuse you."
GTS: Okay, well talking minimal, lets discuss that FAB P1!
FS: "I actually haven't seen it yet, I'd love to go see it. I'm more interested in the carbon wheels. The P1 is as good as it gets, anything else isn't going to help the car, even the wheels, I would be interested to know what weight they are. There's some research in Australia into wheels and they've been tempting us with some really good figures."
GTS: Carbon wheels have been around for a few years now. Major manufacturers haven't really used them – is that for good reason?
FS: "It's a mental thing – people think 'what if I hit a curb really hard?' It's the same with an alloy wheel, but actually the impact can be much harder on a carbon wheel. I don't see the fear, I have them on my motorcycle, it's unsprung weight, you can feel it. Rotational mass is the single best improvement I've made to my bike. I don't think twice about owning them."
GTS: Okay, so never say never to carbon wheels on a future McLaren! Frank, thanks for you time.
We thank Frank Stephenson and McLaren Automotive for the opportunity! If you havent already check out our McLaren P1 Review and stay tuned for our upcoming review of the McLaren 650S!